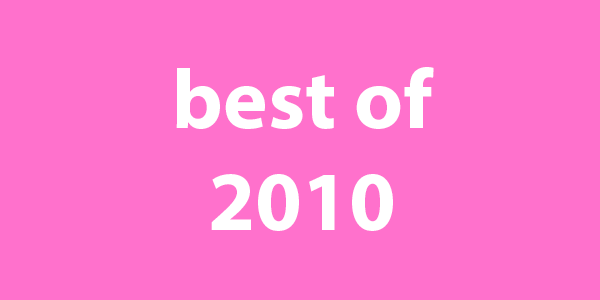 Here it is, the much anticipated "Drew's Best of 2010."  If you're super excited about my best of (or bored with everything else), you can check out previous best ofs.
Best Achievement – Perform Improv 53 Times
In 2007, 2008 and 2009, I gave myself 10 goals at the beginning of the year to accomplish.  2010 was no different.  This year, I successfully completed 6 of my 10 goals, which isn't even a passing score, but is a lot better than if I didn't set any goals.
My best achievement of the year was performing 77 times.  Not only did it greatly exceed my goal,  it also helped me grow a ton as a performer.  Thanks to a lot of great teachers and far too much analysis, I was able to blow past some of the barriers in my head and start performing more emotional, interesting and engaging characters.  Thanks to everyone who attended one or many of the 77 shows, hopefully you enjoyed it or them.
Personal Development – Daily 3 Challenge
Anyone who's followed my goals in the past, or has had to share a hotel room with me, knows I love the snooze button.  I've tried a number of different things to break this cursed habit, but the only thing that has consistently kept me from hitting snooze was instituting a challenge with Pat.
Since Pat and I started the daily 3 challenge (not hit snooze, write for 1 hour and exercise) 73 days ago, I've only hit snooze 16 times.  Not perfect but far better than how I was doing for most of the year.
Best Business Decision – Go to LA for Speaking Conference
Humor That Works has seen quite a transformation this year and I've had a number of great opportunities to share the power of humor with some great groups.
However the decision that has had the biggest impact (if only mentally so far) was attending a speaking conference in LA. Not only did the trip give me 5 consecutive days to think about my business, it also helped me make some decisions on the direction I want to go.  And, perhaps most importantly, it gave me a sense of validation as to what I am doing and how it is something people are looking for.
Best Personal Decision – Move to Midtown East
Though I technically made the decision to move in 2009, I wasn't 100% sure where I was moving to until 2010.  I first looked in Chelsea to be close to the improv theaters, but ultimately ended up in a great apartment in Midtown East (almost entirely thanks to Luke).
Though I've definitely had challenges in the apartment (no stove for the first month, bad windows for 3 months, a brief issue with heat), it's proved to be a great place to stay.  It has a second bedroom for the vagrants that stay with me, has enough space for all of my crap plus some, affords me the opportunity to walk to work and is located such that I can almost always stop at home in between career #1 (work) and career #2 (comedy).
Best Travel – Geneva/Paris/Ediburgh/London
I was fortunate enough to travel quite a bit in 2010. I managed to spend some time back home in Cincinnati, in my second home of Columbus, had two trips to LA, a weekend in San Francisco that included some time in San Jose, five days in Las Vegas, three days in Mexico City, an overnight stay in Boston, a weekend wedding in Cape Cod, two trips to Chicago, and started the year in New Orleans / Baton Rouge. But of all the places I went, the most unique were the places I hit in Western Europe.
My first time in Europe (and incidentally the first of any of my immediate family members) started as a business trip in Geneva. I decided to make the most of the flight across the Atlantic and extended my stay long enough to see Paris (8 hours), Edinburgh (2 days) and London (1.5 days). I had the chance to see some historic landmarks, got to see a great friend and experience a traditional Scottish ceilidh, and learned a ton about myself (most notably my lack of appreciation for other languages and the wonder that is being in a foreign city completely by yourself).
I hope to make it back to Europe soon (specifically Tarvin, England and Italy), but I'll never forget the first time there.
Best NYC Visit – Family for Christmas
I don't think I had a single bad visit in 2010, but the most memorable was the recent visit from my mom, dad, brothers and one of my brother's girlfriend. It was a jam-packed (including a trip to PB & Co) 4-days with great food, tons of walking, lots of pictures and non-stop time spent together.
Thanks to the fam for making the long trip and for keeping me fed during and after the visit (mmm leftovers).
Best New Restaurant – Peanut Butter & Co
I was able to try a number of great new (to me) restaurants in 2010 but my favorite was Peanut Butter & Co. Not only does it focus on one of the things I love, it has combinations I had never even thought of. My favorite: a peanut butter BLT (but sans tomato for me).
Sadly I discovered while thinking about this one that I ate at McDonald's more than any other restaurant this year (actually it was probably 99 Cent pizza but I don't have CC tracking for that).  To be fair, I did get a lot of the smoothies from there, but I definitely have to change that in 2011.
Best Improv Show – 2 Square
I couldn't tell you how many shows I saw this year even if I wanted to (and I do want to). If I had to guess, I'd say somewhere in the 50 to 60 range. Many of them were awe-inspiring and hilarious, such as the many Gravid Water shows I saw, tons of shows at DCM (especially Improvised Shakespeare, Baby Wants Candy and Bash), and TJ & Dave.
But the winner for me was the final 2 Square show. Peter Grosz and John Lutz have continued to amaze me since the first time I saw them. But for their last show (at least in awhile), they managed to blow my mind with their commitment to and diversity of characters, connections between scenes, and an ending that couldn't have been scripted better if the entire thing actually had been scripted.
Best Improv Performance – Level 5 Run
It's hard to pick my own best performance for the year because there were so many good ones… and a lot of bad ones… and plenty that were just "eh."  Also that whole subjectivity thing makes it tough since I didn't get a chance to see me perform any of the shows.
So I won't pick a single performance out of the 77, but rather a run of them; specifically the run of shows I had with my Level 5 class at the Magnet.  The class was full of incredibly talented people and every show was a blast to play in.  For me, characters from that memorable run included a drunk hotel patron, a Medieval Times employee looking for a date, and a man politically changed by a dream he had about bunnies.
Best Movie I Saw – Inception
I didn't see a ton of movies in 2010 (only 6 of the Top 50 for 2010), but I did see some quality ones (Toy Story 3, Jackass 3-D).  The movie I enjoyed the most was Inception.  It had intrigued, action, solid acting, cool locations and an awesome plot that was engaging throughout.  I rarely like to watch movies multiple times, but I'd happily see this one again.
Best Book I Read – And Here's the Kicker
I've read a decent number of books this year (including Predictably Irrational, Last Words, and Naked Pictures of Famous People), but the winner for me was And Here's the Kicker.  The book is a collection of interviews with some of the top humor writers in the country and contains amazing insights, practical tips and lots of encouragement.
Best Tweet – Tux

I created a list of my 15 best tweets of 2010, but my favorite for the entire year was:
My tailor asked if I needed help trying on a tux. I said "No." He said "fine, suit yourself."
Enjoy this post? Sign up below and receive the latest updates from me on an inconsistent basis.
https://drewtarvin.com/site/wp-content/uploads/2016/01/best-of-2010.png
300
600
drew tarvin
https://drewtarvin.com/site/wp-content/uploads/2017/09/andrewtarvin-header.png
drew tarvin
2011-01-01 20:38:13
2016-01-10 16:34:15
Drew's Best Of 2010