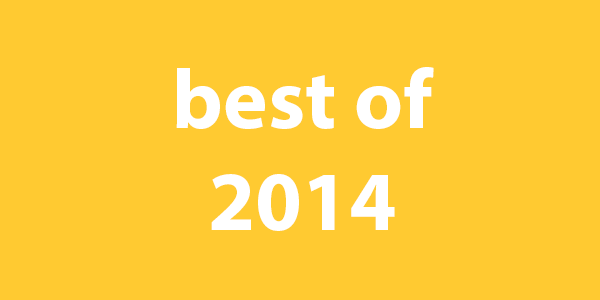 With approximately 8700 hours in a year to do things, I like checking back on how I spent some of those hours. Here are some of my favorites from 2014. You can also check out past years' bestofs.
Best Achievement – 100 87 Speaking Engagements
For the second year, one of my primary goals for the year was to do 100 engagements for Humor That Works. I only hit 87, but I'm still happy with the results considering the engagements included some awesome events (see more below).
Runner-Up: 2 million pageviews.
Best Personal Development – Start Being More Mindful
One of my 5 daily habits this year was 5 minutes of "meditation" or just counting my breaths. I started noticing that, in an environment where you can always have external simulation of some sort (namely from a cellphone), I had lost the ability to just do nothing but think / take in the surroundings. While I'm still pretty bad at the habit, just trying it was a great start.
Runner-Up: Getting more honest in my tracking.
Best Business Decision – Apply to Facilitator Role
I received an email via LinkedIn about a group looking for an experienced facilitator. I decided to apply for the role since it was a limited time commitment and I ended up getting it, which ultimately led to me working with a great organization doing events in Seattle and Madrid.
Runner-Up: Perform 30 times in August.
Best Personal Decision – Go to the Philippines 
While technically I headed to Manila for a speaking engagement, it was very much a personal decision as well, particularly to stay for a week+ and with a friend. It was a great overall experience and my first time visiting Asia which led to a lot of learnings, fun, and only slightly embarrassing attempts at learning some of the language.
Runner-Up: Visit LA for Nate's Birthday
Best Speaking Engagement – TEDxOhioStateUniversity 
There were a number of great events this past year, including some with ChangeLabs, a full day with Nationwide, PMI, and FunnyBizz. But the most important event for me was the TEDx talk I gave on humor at work. It was a blast to do, was well-received, and has now racked up 25,000+ views online.
Runners-Up: ChangeLabs, Nationwide, PMI, FunnyBizz
Best Personal Performance – Comedians Coming Home 
My very last show of the year was my favorite for a few different reasons: 1) It was in Cincinnati in front of some friends and family, 2) The material was well received, and 3) It ended with an interview with Rajiv that included a number of puns.
Runner-Up: The 30+ Shows in August
Best Travel – Madrid 
I took 36 trips in 2014, with 115 days on the road and 94 nights away from NYC. I saw: Cincinnati, Pittsburgh, San Francisco, Vincennes, Columbus, LA, Boston, Milwaukee, Gettysburg, Philadelphia, Providence, DC, Spain, Philippines, Scotland, England, Copenhagen. I enjoyed all of these trips but Madrid was probably my favorite given the event I did, the food I ate, and the best Gin & Tonic I've ever had.
Runners-Up: LA, Manila, Copenhagen
Best New Restaurant – Good Stuff Eatery 
I enjoyed a number of great restaurants throughout the year but my favorite was Good Stuff Eatery in DC as it included my favorite combo of foods: burgers + fries + shakes.
Runner-Up: Mandy & Joe's Delicatessen, Gray's Ice Cream
Best New Food – Spanish G&T 
It's not technically a food and it's rather bizarre that I'd choose an alcoholic drink, but the Gin & Tonic I had in Madrid was the best I've ever had and led me to do a lot of research on the history of G&Ts.
Runner-Up: Cabinet (aka Milkshake)
Best Live Show – No Man's Land 
I enjoyed watching my buddy Rajiv in his one man show about love / relationships. It made me laugh, smile, and want to do a one man show of my own…
Runner-Up: Violet
Best Movie (I Saw) – Guardians of the Galaxy 
I'll admit that I'm a sucker for the Marvel movies. They have action, great lines, and superheroes. Guardians of the Galaxy with Chris Pratt was the most entertaining movie I saw all year with good performances, humorous writing, and a nice soundtrack.
Runner-Up: Dr. Strangelove
Best Book (I Read) – Fun Home 
An incredibly well done autobiography done in the style of a graphic novel. It was very honest and revealing, more so than any book I've read in recent years.
Runner-Up: Catch-22
Best Tweet – Math Perspective 
While I've selected my 20 best tweets from 2014, here's my top pick:
Life is about perspective. They aren't math problems, they are math opportunities.
There you have it, my Best of the Best from 2014. See you next year!
Enjoy this post? Sign up below and receive the latest updates from me on an inconsistent basis.
https://drewtarvin.com/site/wp-content/uploads/2016/01/best-of-2014.png
300
600
drew tarvin
https://drewtarvin.com/site/wp-content/uploads/2017/09/andrewtarvin-header.png
drew tarvin
2015-01-01 10:24:23
2016-01-10 19:26:45
Drew's Best Of 2014