On December 9, 2016 at 18:31, an email hit my inbox that was both exciting and intimidating. It was an invite from TEDxTAMU asking if I was interested in applying to speak at their TEDx event in April 2017.
I was excited because doing a TEDx talk is a thrilling experience and it has the potential to lead to bigger things; I was intimidated because it's a lot of work… and it has the potential to lead to bigger things.
Technically, a TEDx talk is just another engagement but, if it goes well (and you get a good video (and you say something that resonates (and it gets shared))), it can amplify your message far beyond most other platforms.
For example, I've done over 500 engagements as a speaker, reaching over 35,000 people live. 10 of those events have shared my talks online, the highest viewcount of any of those videos is 4,883 (a talk on the humor process). The collective viewcount is 19,964 views.
My first TEDx talk on humor at work has 211,375 views as of this writing. That's 13x more people that I've possibly been able to help with my message, from one talk. That says nothing of the additional boost in credibility I got from having done a TEDx talk, the quality video I could share to demonstrate my speaking ability, and the joy of knowing 200,000+ people have seen my terrible MS Paint drawings.
I was excited, but intimidated.
The Difference between TED and TEDx
I should note that a TEDx talk is different than a TED talk, and one of my biggest pet peeves is people who claim they are TED speakers when all they've done is a TEDx event.
The TED Conference is the big one, it only happens once a year, and there's a pretty intense process just to be able to attend (not to mention tickets cost $5,000). To speak there, you have to be invited by the curators and it's usually reserved for people doing massively huge things (think Elon Musk and Brene Brown, not "some guy" named Drew).
A TEDx event is an independently run event with TED style talks, meaning they're six to eighteen minutes long. Just about any group can run a TEDx event, assuming they apply and go through the TEDx process.
That's not to say that TEDx events can't be incredible; the one's I've been a part of have been. But they're not the same as TED. A speaker claiming to be a TED speaker when they've done TEDx is like saying you're a NFL player because you play football in an intramural league.
That said, the process for doing a TEDx talk is similar to a TED event and TEDx events are all roughly the same in setup and format.
The Process of Giving a TEDx Talk
It starts first with getting an invitation to speak. This might be because someone saw you speak elsewhere and recommended you as a speaker (what happened to me for TEDxTAMU), or you applied online. Most events book 3-5 months before the event date and you can find a list of all upcoming TEDx events on the TED website.
Sometimes, as part of this process, you will already know the topic you're going to speak on. Other times, you'll build it after you've been selected (in a "You're so awesome we know we want you to be part of the event no matter what you talk about" kind of way). From there, you have a series of check-ins with someone from the event team where you'll go over your talk leading up to event and make sure you don't just try to wing it like 90% of the other things you do in your life.
Here's the timeline for my TEDxTAMU talk:

The day before the event you'll do a rehearsal of your talk, getting last minute notes from event staff or sometimes a presentation coach, as well as get used to the stage, clicker, etc. The day of the event, you'll do the talk as part of a line-up of other awesome speakers, and maybe do some networking as well.
After the event is over, usually one to three months, the video will go onto the TEDx YouTube channel to be shared with the world. A very select few TEDx videos are then upgraded to the TED website (like Shawn Achor).
How these upgraded videos are selected, I do not know. I've been told that a member of the TED curation team watches every TEDx talk and so it's possible that they decide, or they sometimes add a talk if it's been viewed millions of times on YouTube. Either way, I'm told it's not something you should expect to happen, like winning the lottery or successfully solving one of those peg board games on the first try.
After that, you are a TEDx speaker and can share the video with anyone willing to watch.
Choosing a Topic for a TEDx Talk
For me, after getting over the excitement of doing another TEDx talk, and telling the group I would happily apply, I had to come up with a topic to speak on. There are a number of ideas rattling around in my brain that I think are worth spreading. After a quick brainstorm, I had ten that I was interested in exploring:
How to take risks with no fear.
Fate versus choice.
We are all more alike than we are different.
The perils of unleadership.
Imposter syndrome.
Three steps to small talk.
We are not our personality assessments.
The quantification of life.
Do we need emotion?
The skill of humor.
After hashing out the theme and rough outline for each of these ideas, I narrowed it down to the three "The's":
The Perils of Unleadership. A talk exploring the difference between intention and action, and the things we unknowingly do that demotivate the people around us.
The Quantification of Life. A talk focused on the pros and cons of quantifying everything we do, complete with examples of things I've tracked and analyzed over the years, including: tracking every hour of my day for an entire year, using data analytics to determine my favorite song, and my stand-up on attempting to quantify love.
The Skill of Humor. A talk on the idea that humor is a skill, which means it can be learned. I saw this as an extension of my first TEDx talk on humor in the workplace with more of a focus on how to be funny instead of why to be funny.
With these ideas in hand, I talked to a number of friends and colleagues over the pros and cons of each one. The most helpful criteria I heard with regard to choosing a TEDx topic included:
What do you have the most expertise in? TEDx isn't just about sharing an idea you think about, it's about sharing something you are truly a subject matter expert in and can bring new perspective to. They want to hear about the challenges of the modern school system from experts like Ken Robinson, not your Aunt Karen.
What can you execute really really well? Because of the potential a TEDx video has, it's important to do something you can knock out of the park. Trying something out for the very first time is great for an improv stage, not the TEDx stage.
What do you want to speak on going forward? Assuming the talk goes well and you get great video as a result, you'll start to get inquiries about speaking on the topic of your TEDx talk. Unlike stand-up, where a video of your material usually indicates that material is nearing the end of its lifecycle, a TEDx video can be the start of you talking about that topic for years to come.
Based on this criteria, I applied to TEDxTAMU to speak on The Skill of Humor and was accepted.
NOTE: If you're organizing a TEDx event and think any of the other ideas sound interesting, I'd be happy to share it at your event. I'd also add talking about the lessons from my new book, The United States of Laughter, to the mix. Have your people email my people.
Preparing for a TEDx Talk
As mentioned, there's a typical process that all TEDx speakers go through for an event, and one of the most helpful parts of the process is having a deadline. Unlike Tim Urban, I don't procrastinate; I just believe in Just-In-Time Productivity. So the deadlines served as great motivators to actually work on my talk.
However, that wasn't enough. So I did what I do whenever I'm preparing for a new talk: I booked myself on stand-up shows.
I do this for three reasons:
All of my talks include a lot of humor (even if I'm talking leadership or decision-making) and no matter the venue, I am always corporate clean. My material is Rated Mom (as in I always want my mom to be comfortable watching my work). Therefore, if material I do works in a stand-up comedy club, I know it'll work with a speaking audience because the bar for laughter is lower.
It's easier to book stand-up shows than speaking events and my responsibility on those shows is lower than at my events. If I'm working on material at a stand-up show and it's not Grade A, that's okay. If I'm at a speaking event and I bomb, that's a whole different story. Time is something we speakers take very seriously. As Carrie Wilkerson says, "if I'm booked to speak for an hour to 500 people, I'm now responsible for 500 human hours."
It gives me deadlines. If I book five shows in a week, that's five times I'll be thinking about, writing, performing, and reviewing the material I'm working on. Sure, I could theoretically still do that if I didn't have any stand-up shows, or I could also just catch up on Doctor Who instead.
In the four months leading up to the TEDx event, I did 17 comedy shows to work on material that could be used in the talk.
As it got closer to the event, however, I knew I couldn't just do stand-up as I needed to work on transitions and do full run-throughs. So I started finding ways to work on the complete 18 minute version of the talk in front of more traditional speaking audiences.
First, I re-arranged my humor keynote so that I could do The Skill of Humor as the middle section of my talk. Second, I reached out to a few previous clients, as well as a couple of meetup groups, and offered to give my talk for free. To them, they got a good talk for no cost, for me I got a deadline on my calendar to practice the talk and get feedback.
In total, I was able to practice my full TEDx talk 13 times in front of an actual audience before the event.
A Last Minute Change
Going into the final week before the event, I felt pretty good about the talk. I knew the jokes were funny because I worked on them in stand-up; I knew the TEDxTAMU team was happy with the talk because of our check-ins; and I knew that the overall flow worked as a speech because I had tried it in front of real audiences.
And then, three days before the event, I presented a modified version of the talk to my brother's class at Texas A&M. My brother, David Tarvin, is a communications lecturer and has a PhD in rhetoric. He teaches public speaking, leadership and conflict resolution, and intercultural communication; needless to say, he knows a thing or two about speeches (but only a thing or two, I refuse to give him too much credit).
Side Note: People often wonder what it is about our upbringing that led me to being a professional speaker and my brother being a teacher of public speaking. The truth is that it's mostly coincidence. I got into being an engineer and doing stand-up and improv; David got into it because he loves teaching and likes to talk.
After presenting it to his class, with positive feedback all around, I asked David for feedback. His response was, "It's good." (Long Pause) "But…" and then he basically outlined how, in an 18-minute talk, I had two primary themes when any good talk, particularly one so short, should have only one.
We parsed through the speech and I realized he was right. I definitely had elements of The Skill of Humor as a theme. However, I also had a theme for why to use humor at work, the topic of my first TEDx talk. As it currently stood, this TEDx talk was almost like an updated version of my first TEDx talk with different jokes. And that's not what I wanted.
I wanted this talk to complement the first one. The entire goal of the first talk was to convince people why humor is so important. The goal of the second talk was supposed to be how to actually use humor, no matter how funny you think you are.
So, with my brother's help, and with less than 72 hours until I'd be presenting, we set about re-organizing the talk: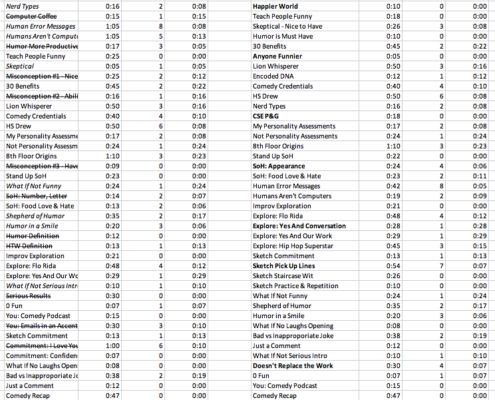 As you can see from the two outlines above, I am a nerd when it comes to creating talk outlines. But, more importantly, you can see that I kept a lot of the content the same. However, I re-organized the structure of the talking points and streamlined the sections that felt more like the "why to use humor" in order to focus more on the sections that talked about "how to use humor."
I shared my changes with David on Thursday night, he approved, and then I presented it to another one of his classes on Friday. The feedback was even better than the previous deliveries and I knew the new structure was definitely stronger.
Friday night, I did the dress rehearsal and got positive feedback from the TEDxTAMU team. Then I had dinner with family (my mom had come down for the event), and went to bed, dreaming of a successful event (and milkshakes).
The Day of the TEDx Talk
Having done over 500 speaking events in my career, I don't often get nervous before events. Usually I just get excited. Saturday, April 22nd was different. I felt the nervous energy that is a mix of fear and excitement, the same nervousness I felt when I first started doing improv 10+ years prior or whenever I get onto an empty subway car in NYC (is it just my lucky day or is the car empty because of some horrid smell?).
I woke up at 8:50 and did a run-through of my talk. My only real concern at that point was time. Whenever I practiced the new version on my own, I came in at around 22 minutes. Not good for a 18-minute talk.
My last run through of the morning came in at 20 minutes and I figured that was close enough, given that I typically talk faster in the moment and I wouldn't have the luxury of pausing to collect my thoughts.
I showered and had breakfast before David, my mom, and David's roommate, Andrea, dropped me off at the event. I went backstage and met some of the other fellow speakers while my family found their seats (front and center).
I was the last speaker in the second block of the day. That meant I got to sit with my nerves a little while longer while my fellow speakers went out and did their thing. I remember they had a great mix of compelling ideas and fun delivery but I honestly couldn't tell you what they talked about. I was too focused on my own fate.
And then it was my turn. I hit the stage at approximately 11:35 CT and, as I walked to center stage, my nerves dissipated. Before I knew it, I was excitedly sharing the first story about my grandmother texting me. And after 19 minutes and 16 seconds, I walked off to applause.
Afterwards, I took some pictures with the TEDxTAMU sign, with my mom, some of the team, and a few new fans I had gained during the talk.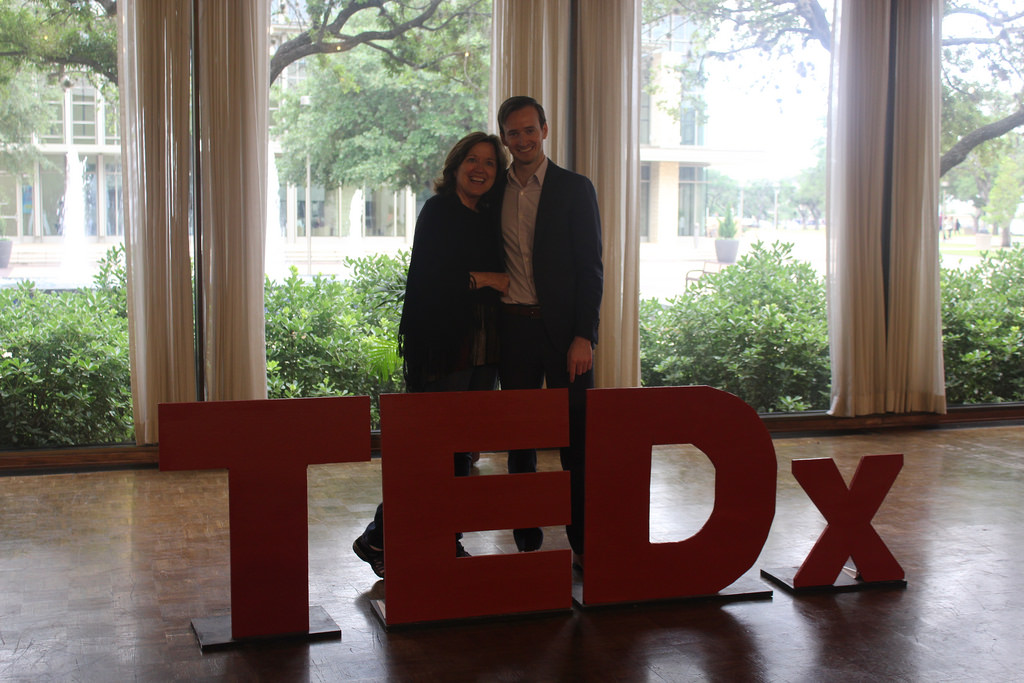 Then we headed to lunch as a family and I finally breathed a sigh of relief.
Waiting for the TEDx Video
Giving a TEDx talk is only part of the journey. After that, you wait for the video.
And, as Tom Petty says, the waiting is the hardest part. You're left wondering, "Was I as good (or as bad) as I thought I was?" "Will the energy in the room translate to video?" "Did the camera get my good side?"
The video is edited by whatever group the TEDx event has contracted, and then uploaded to the TEDx YouTube channel for the world to see. For me, there was an intermediate step that was supposed to happen, didn't, but then eventually did.
From my first TEDx talk, I realized how important the edit of the video is, particularly with a talk on humor. With TEDxOSU, I saw an early draft of the video and had a few notes to share (73 of them, actually).
They included things like, "When I compare myself to 'skinny Hugh Jackman,' cut to a close up of my face so that you can see that I do, in fact, look like a 'skinny Hugh Jackman.'" Things that helped the comedy flow and punchlines work in a video setting.
So, when I agreed to do TEDxTAMU, I confirmed that I would have the ability to give notes on the edit before it went live. This got lost somewhere in the process, so when I sent a follow-up email to see when I'd get to look at the rough-cut, I was informed the video was already online (with 800+ views).
Unfortunately there were a few key problems with the initial edit, so we had to pull the video and do a re-edit.
To get a sense of the small changes that can have a big impact, here's part of the email I sent to the editor: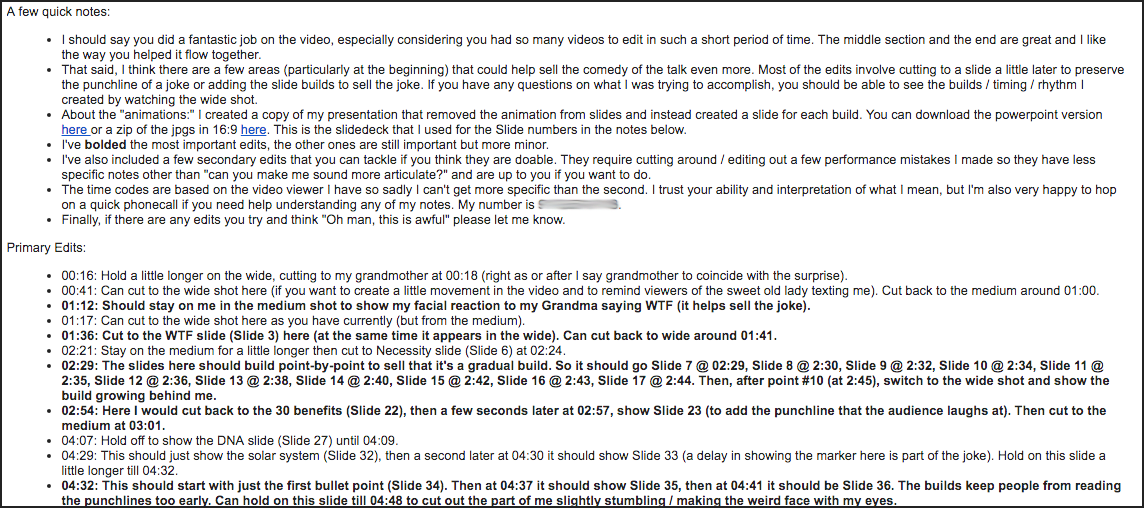 After a couple of iterations, I was happy with the video and they re-uploaded it to YouTube and everything was great. Almost. The default thumbnail for the video was one of my slides and didn't really represent what my talk was about.
I sent an email to the TEDx YouTube channel (with the support of TEDxTAMU), and they changed the thumbnail to something more engaging. And then everything was great.
What Happens After You Give a TEDx Talk
My talk has now been online just over a year, and as of this writing, has been viewed nearly one million times. But the success of this talk (views-wise) is relatively recent.
As of January 2018, the talk was at just over 3,000 views. I don't have the exact numbers, but I do have some from periodically checking and here's the growth over time: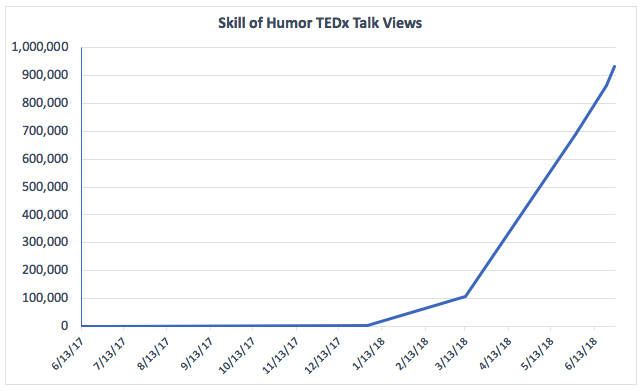 I don't know what happened from January to March but the talk became more popular and views started skyrocketing. Maybe it took time for people to think, "WTF?"
Views haven't been the only positive from the experience. In addition to the fun of having a lot of hits, I can also point to the TEDx talk as a direct source of income.
I've had nine inquiries come in that have specifically said they first saw my talk; four of those inquiries have led to bookings. In other cases, I've used the talk as proof of credibility and as a speaker demo when people have asked about my services. I've also gotten a few podcast invites and one inquiry to see if I was single.
But the most powerful outcome has been the comments I've received from people about how it has impacted their life. People from all over the world have reached out on YouTube, Facebook, LinkedIn, Twitter, and Instagram to share what the talk has meant to them.
But you can't please everyone. As of this writing, the video has 19,000+ likes and 465 dislikes on YouTube. And some of the comments are less than positive (including one YouTuber who claims I am "Formulaic, dispassionate and utterly predictable").
Still, it seems to have made a good number of people laugh, and hopefully learn, and that's all I can ask for.
A Review of My TEDx Experience
Overall, giving a TEDx talk was an incredible experience. From a very early draft of this article (when the talk was at less than 5,000 views), I wrote:
"Even if the talk never goes viral, I'm still very happy with the result. Speaking on The Skill of Humor helped me to dramatically improve my humor keynote and the video has been a great marketing tool to share with clients on what I can do."
Note: We'll ignore that it's taken me six months to actually publish this post.
For the talk itself, I'm happy with my performance in the video. There were a few spots where I stumbled but none of them are catastrophic and I don't think they detract from the performance.
I was happy with the response for the various jokes and most of the laughs went about as expected. I was happy to see the SPF joke went over well because it was a last minute addition that I had never tested on stage, and you can distinctly hear my mom's laugh with the horse joke. The stories of my grandmother were the clear winners from the talk, with a lot of people telling me, "WTF!"
A big shout out to the TEDxTAMU team for having me at the their event. And to other TEDx organizers, seriously, email me! I'd love to do another talk (maybe even a talk on a giving a talk?).
To see it all in action, watch the talk below: