Today's the day. After being a nomad for 550 days, I'm hanging up my traveling shoes and settling back in NYC (Brooklyn to be exact).
From March 1, 2015 to September 1, 2016, I lived out of two bags, traveling the world for work, fun, and selfies. After 18 months, I decided to return to the homeful lifestyle (though I'll still be traveling quite a bit, including a 3-week stretch that starts in 3 weeks).
To honor the closing of one chapter in my life, I decided to take a quantitative look back at the experience (much like I did when I surpassed 1,000 performances).
Travel by Month
In total, I traveled an estimated 159,023 miles (that's 255,922 kilometers).
Note: This is only the miles it took to get from one place to another; I didn't track distance traveled within a destination (such as all the walking I did in Texas when PokemonGo came out).
159,000 miles is the equivalent of roughly 6 trips around the globe (given the Earth's circumference is measured at 24,874 miles), or one circumnavigation every 3 months.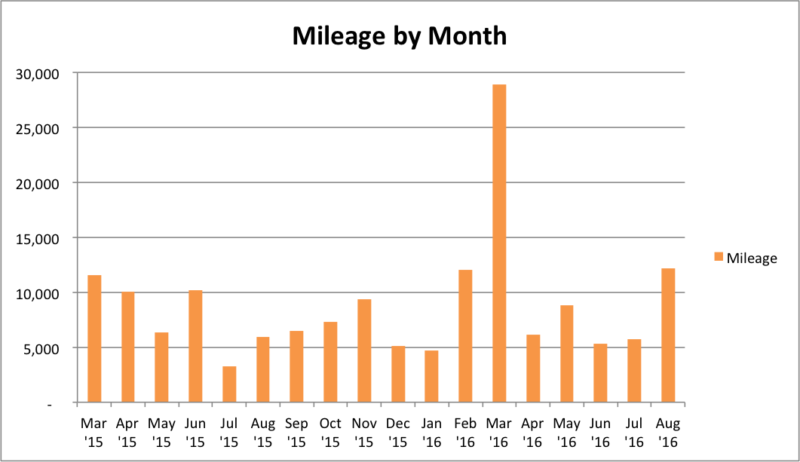 I averaged nearly 8,900 miles per month. A few notes:
The most I traveled in 1 month was 28,910 miles in March 2016 (18% of total miles traveled). That involved visiting New York, Madrid, Lisbon, Dallas, Los Angeles, Singapore, Kuala Lumpur, and San Francisco. 8 major cities in 5 countries in 31 days isn't bad.
The second busiest month of travel was this last month, August 2016, at 12,165 miles, which included trips to London, Edinburgh, Oxford, Chicago, Fort Lauderdale, Cincinnati, and New York.
The least I traveled in a month was July 2015 at just 3,240 miles. Even though it was my lowest total, I still hit Cincinnati, Philadelphia, New York, DC, Chicago, and Detroit.
Not all time periods were equal when it came to traveling.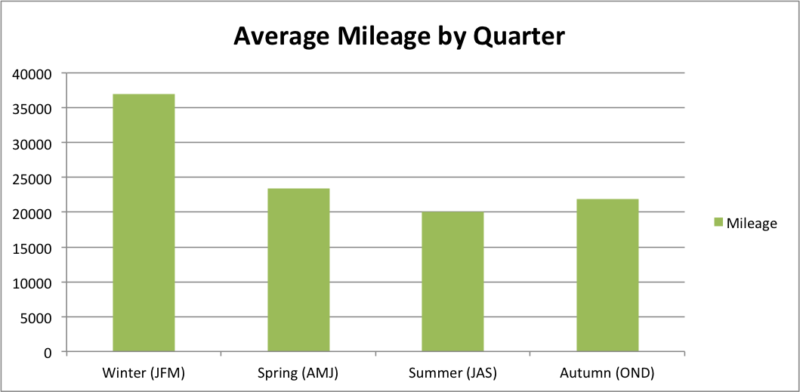 I definitely traveled the most at the beginning of the year, nearly 50% more than the other quarters. The summer was (barely) my lightest travel time, mostly due to a slowdown in work engagements.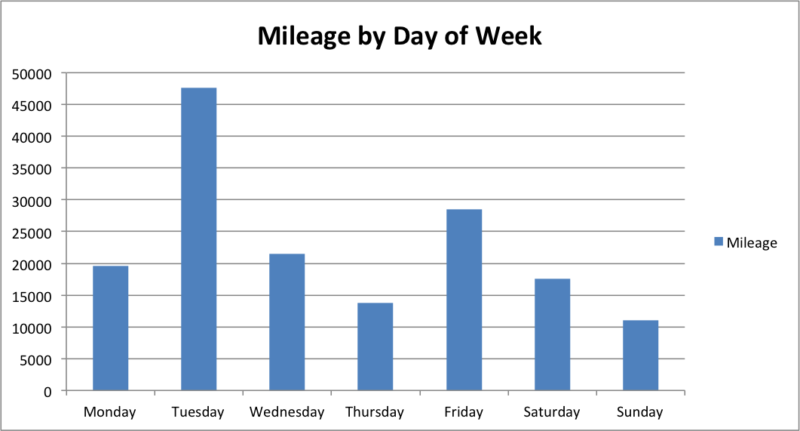 Tuesday was by far my busiest travel day at 47,609 miles or 30% of all travel coming on that day. That likely has to do with the fact that flights tend to be cheapest on Tuesdays and Wednesdays.
The next busiest was Friday at 28,476 miles (18%). My most relaxed day (at least when it came to travel) was Sunday at 11,084 miles (7%).
Naturally there were ebbs and flows to my travel.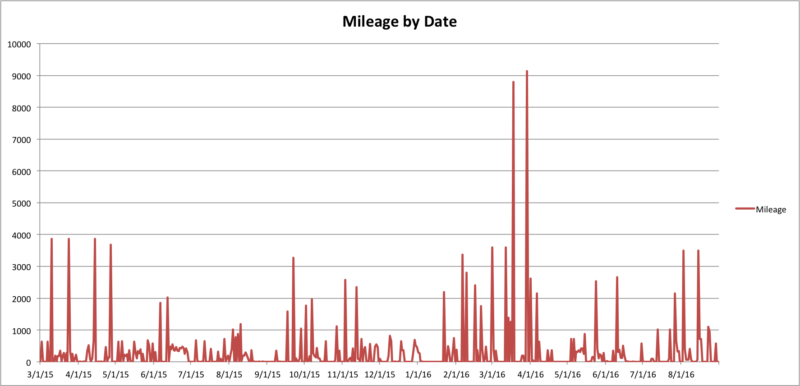 The most I ever traveled in one day was 9,130 miles, which included a flight from Singapore to Los Angeles and then on to San Francisco.
I did some form of significant travel on 247 out of the 550 days (45%). On the 303 days I didn't travel, I often did local trips to restaurants, parks, and theaters, I just didn't move from one location to another.
A few notes:
Over the 550 days, I had 247 stays. 54% of those stays (135 total) were for a single day. 84% were for 3 days or less, 97% were for 7 days or less.
The longest I stayed in one place was 18 days, in January 2016, when I stayed at my girlfriend-at-that-time's (GATT) place in Palo Alto.
The most consecutive days I traveled was 17, during my summer 2015 road trip with my brother, when we covered 8,027 miles (6,000 of which were via car), hitting 39 cities in 19 states.
Travel by Location
In those 150,000+ miles I went to a lot of places, including 142 different cities, all 50 states, 14 countries, and 3 continents. (You can check out a list of all the cities if you're interested.)
All told, I had 609 "visits," where a visit means I did something in that place, whether it be leading an event, going to a local attraction, or sleeping there (hey, sleeping is something). So if I was driving through and stopped to do a show and then moved on, that was 1 visit. If I stayed in a city for 5 days, that was 5 visits.
Despite having left NYC, I still found myself back here quite a bit, thanks in large part to working with companies based here and it being a great launching point for European travels.
The #2 and #3 most popular spots weren't that surprising, considering my mom lives in Ohio and it gave me a spot to crash when I wasn't headed somewhere specific, and the Bay Area was where my GATT was and was a potential destination when I decided to stop the nomadism.
On the flipside, I visited 81 cities (57%)Â just once.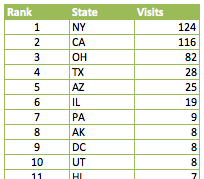 The top three states weren't surprising, considering what I just mentioned about the top cities.
#4 wasn't a surprise either; my brother lives in Texas and I visited a few times to guest teach his classes, as well as had a couple of events elsewhere in the state. Arizona at #5 seemed high, but it was popular due to conferences and wanting to see the Grand Canyon (which I did twice on these travels).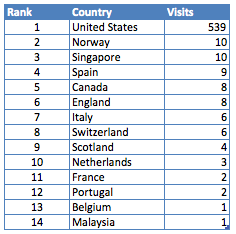 USA! USA! USA! accounted for 89% of my visits. Second was Norway and Singapore where for both I spent 10 days doing events and sightseeing. I was only in Belgium and Malaysia for one night each, still managing to do an event in both.
Travel by Transportation Method
Planes, Trains, and Automobiles isn't just a 1987 comedy, it was also how IÂ got around during my nomadic journey (plus buses and a ferry).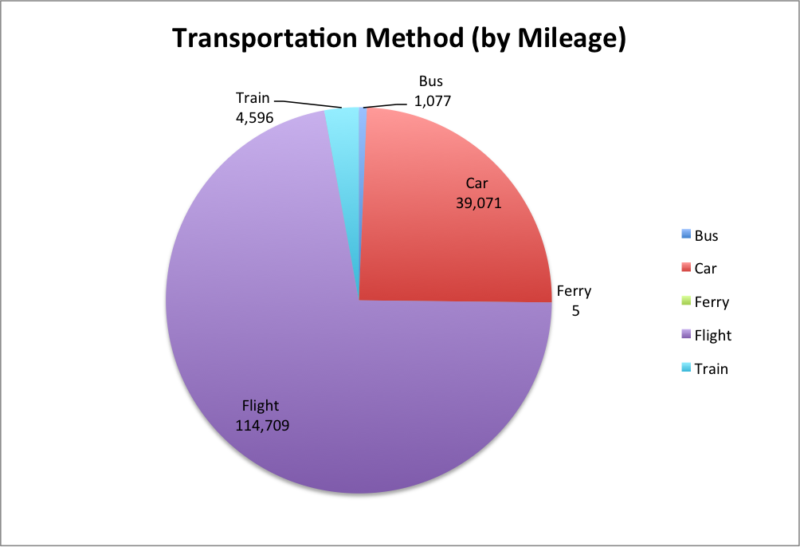 I took 66 flights (not including layovers), 181 car trips, 47 trains (not including subways), 8 buses, and 1 ferry. A few notes:
72% of distance covered was via flights (114,709 miles). If the average plane speed is 575 miles an hour, that's 200 hours in a plane, or 8 days. That doesn't count taxi, take-off, landing, or waiting for the boarding doors to close.
24% of my mileage came by car at 38,936 miles. If I averaged a speed of 60 miles an hour (which is generous considering the amount of time I spent in LA traffic alone), that's 651 hours, or 27 days, in the car.
3% of travel was by train (or subway) at 4,596 miles, 0.7% by bus (1,077 miles), and 0.00% by ferry (1 trip for 5 miles).
My longest flight was 8,800 miles from LAX to SIN (Singapore). My longest car trip (in a day) was 685 miles, driving from St Louis, MO to Burlington, CO (en route to San Francisco).
Travel by Companions
I had the pleasure of seeing and hanging out with hundreds (maybe thousands?) of people throughout my trips. Being nomadic gave me an opportunity to visit friends all over the world, attend a variety of conferences and festivals, and of course meet tons of interesting people along the way.
That said, a majority of my time going from once place to another (e.g. flights) was done alone. 88% of the miles traveled (140,807) were done by myself. As an introvert, I didn't mind this at all.
5% of travel (7,869 miles) was done with my brother, including our epic road trip in the summer of 2015, and 4% (6,505 miles) were with my GATT, including cross-country drives to and from Palo Alto.
Accommodations by Place
While most of my travel was done on my own, most of my visiting was not. I certainly could not have pulled off this adventure without the help and support of some incredible people.
I mean that on an emotional level, but that's hard to quantify, so here's the support some provided on a "you can sleep here" level.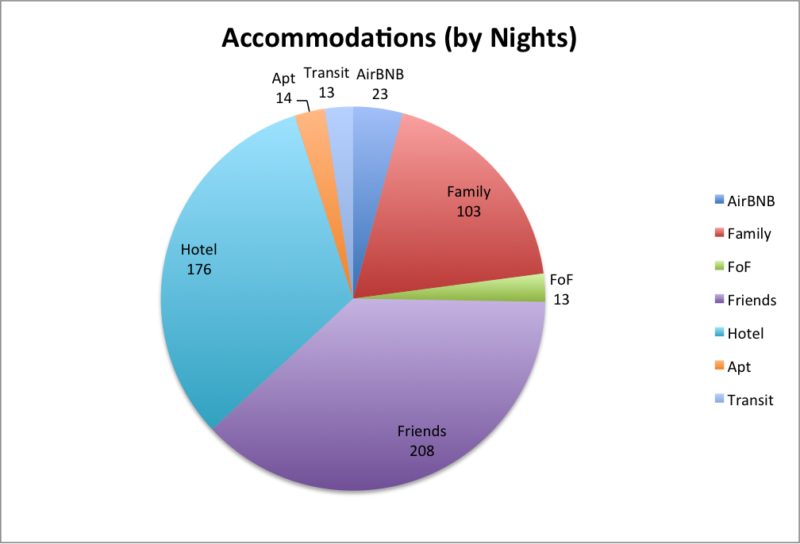 There were a mix of different types of accommodations, including staying with friends, family, friends of friends (FoF), AirBNB, while in transit, and at my apartment.
Which I guess now is a good time to confess something: though I'm ending my nomadic journey today, I've technically had an apartment for about a month. BUT I barely spent time there this last month, which was also my second busiest travel month of the entire experience. Plus 18 months sounds a lot better than 17…
That said, here are a few notes about where I stayed:
38% of my stays (208 nights) were with friends. 86 nights were at my GATT's place. 28 nights were with my now current roommates, and 25 nights were with my best friend since 7th grade.
32%, or 176 nights, were at hotels. A majority of stays were split at either Wyndham properties (47 nights) or Marriott brands (44 nights).
19% of the time (103 nights), I stayed with family. 72 of those nights (13% of all stays) were at my mom's. I also stayed with my brother David, my grandma, my cousin Jean, and my cousin Stephanie.
4% of stays (23 nights) were via AirBNB, including 2 nights on a houseboat in Amsterdam.
2% (13 nights) were with friends of friends, including friends through CSz, friend's parent's places, and someone's office.
2% (13 nights) were spent sleeping in transit, including 5 flights, 3 trains, 3 stays in a Walmart parking lot and two different nights in a rest area.
Like I said, I couldn't have done this alone.
A Few Final Pieces of Data
As of this line, we're sitting at over 1,400 words for this post, so I'm going to wrap it up. Here are a few random pieces of data that I couldn't fit anywhere else:
I did 151 engagements for work and 136 performances over the 18 months of being a nomad.
I traveled with 33 pounds of stuff. On average, I wore 6 pounds worth of clothing, had a backpack with 11 pounds worth of gear, and a carry-on bag of 22 pounds of clothes.
I spent $44,000 on travel over the course of the journey, an average of $2400 / month. A lot of that money was reimbursed by clients when they brought me in for various events, the rest was out-of-pocket.
On January 1, 2016, after 9 months of traveling (and getting through the holidays), I was statistically the fattest I have ever been. I weighed in at 151 pounds with a 33″ stomach. I'm now back down to 144 pounds with a 32″ stomach.