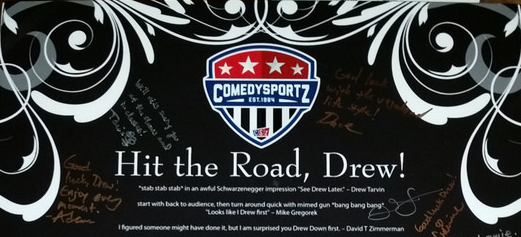 08 March 2015
The last few people were leaving the upstairs bar at The Three Monkeys in NYC. My "was-maybe-going-to-be-a-surprise-but-was-easier-to-just-tell-me" Going Away Party had wrapped up and my friends had headed home.
Mike, an incredibly talented improviser, funny stand-up comedian, and all around great guy had organized the event as a celebration of me leaving (which I'll still take as a good thing). In all of my rushing around I hadn't really had time to organize anything, so it was nice to have an official gathering to honor my nomadic choice.
A number of CSz players showed, along with a few students I had taught in our program and some of my non-improv friends as well. Jill and Lynn Marie, co-owners of CSz NYC who had become great friends and mentors of mine since I had joined the group in 2008 also made it out despite both having 2 vivacious children at their homes.
It was low-key and perfect. A few people brought me cards and/or gifts, a completely unexpected surprise. Most were small in nature as they knew I couldn't really carry much with me, all except the greatest gift I received, the brainchild of Mike: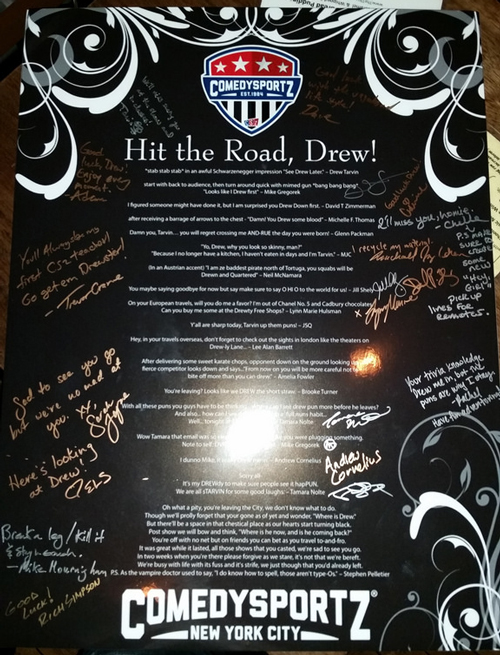 When I had announced my decision to leave NYC, I had sent a message to the CSz NYC players. In what I can only consider the greatest tribute possible, players had responded to my pun-riddled emails with Drew-based puns of their own. A truly touching response.
Mike had taken these responses and printed them on a large board, along with the ComedySportz logo I had helped usher in via the Branding Committee, and the signatures of the people who were in attendance that evening.
It was an incredible gift despite the fact that I couldn't physically take it with me (Mike is still holding on to it for me), but it will be one of the first things I put up when I decide to finally settle into a home again, wherever that may be.
Enjoy this post? Sign up below and receive the latest updates from me on an inconsistent basis.
https://drewtarvin.com/site/wp-content/uploads/2015/07/hit-the-road-drew.jpg
237
521
drew tarvin
https://drewtarvin.com/site/wp-content/uploads/2017/09/andrewtarvin-header.png
drew tarvin
2015-03-09 17:24:48
2016-01-11 03:34:22
Hit the Road, Drew