Through the first two months of 2020, I was having an incredible year. Business was going well, Sabrina and I had just gotten engaged, and we were planning a trip to Antarctica. And then the pandemic came and everything changed (well, Sabrina and I stayed engaged, but we didn't go to Antarctica out of fear of giving the penguins COVID). While there were many tough moments from the past year, there were still many successes (thus the color of grey for 2020). Here are my highlights of 2020 (and here is the archive for year's past).
Best Achievement: Staying in Business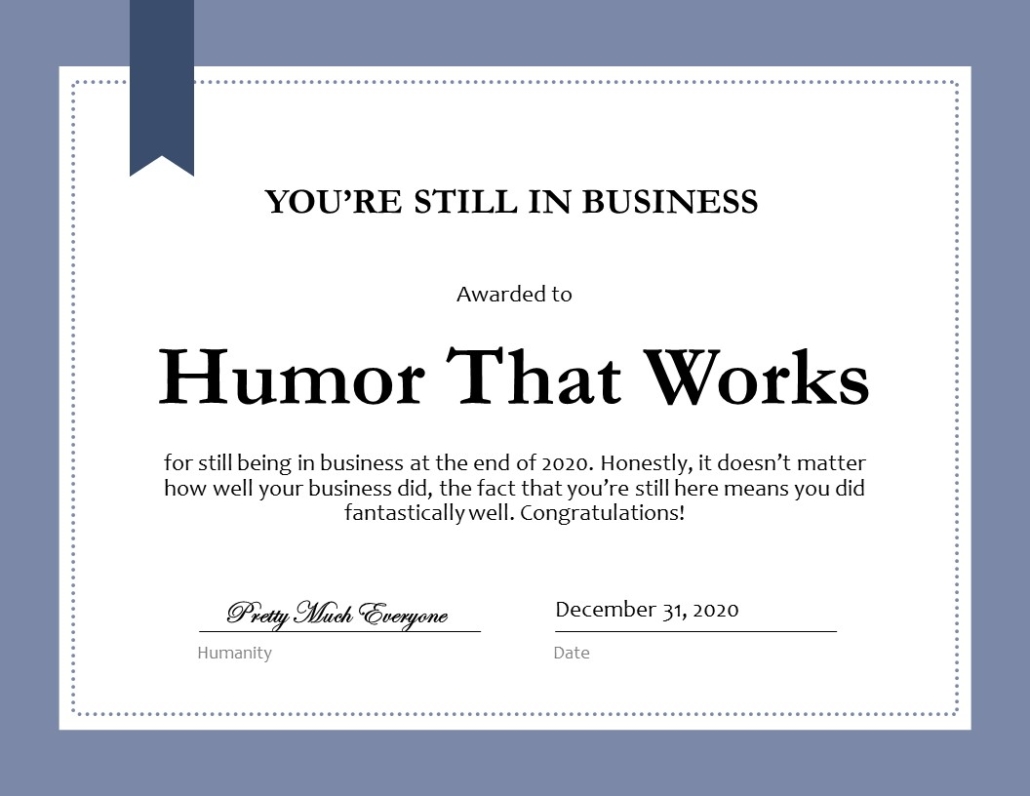 2020 was shaping up to be the best year for Humor That Works as a business. I had events lined up throughout the year, momentum was growing, and it seemed like each event I did led to others coming with it. And then the pandemic happened and the speaking industry changed overnight. And yet, by the end of 2020, the company was still going strong. As soon as lock-down began, I started exploring ways to present virtually. For April, we did 30 Days of Humor as a way to bring a little joy and positivity into "these unprecedented times" (which we know are unprecedented times because of the unprecedented number of times we've called them "unprecedented times"). So, I dusted off my skillset as a computer engineer, learned about all things virtual, and started delivering virtual keynotes, workshops, improv shows, stand-up specials, and more. For a speaking business to still be running at the end of 2020, that's something I'm proud of.
Runner-Up: Getting Married
Best Personal Development: Duolingo Lessons
I took Spanish for four years in high school and the only thing I really remember is "Tengo el gato mis pantalones." What educational class was that from? The 1999 Martin Lawrence movie Blue Streak. That's right, I don't remember much from my classes (where I was a member of the Spanish Honor Society, no less), but I do remember a random line from a Martin Lawrence film. However, on the day Sabrina and I decided to move to Panama, I realized I needed to up my partido-del-espanol, and turned to Duolingo. And I've completed at least one lesson every day since. Can I hold a conversation in Spanish? Only if it's a very short conversation about where the library is… But, I do get a little bit better every day.
Runner-Up: Tennis Lessons
Best Business Decision: 30 Days of Humor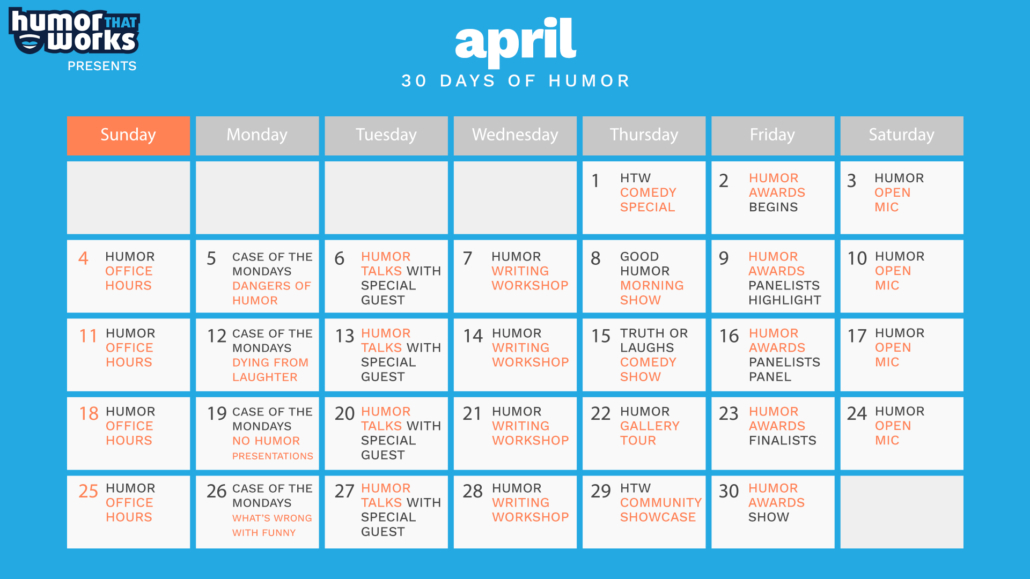 Remember way back in March, when the pandemic first started, and many of us thought that it'd be over somewhat quickly. We thought, "Okay, we'll lock down for two or three weeks, stay indoors, catch up on Netflix, it might even be a little fun." Then the lockdown continued and we thought, "You know, it'll be over by the fall." The problem is that we never specified which fall. Fall of 2020? Nope. Fall of 2021? Maybe. Fall of human civilization? Possibly. While everything was still so uncertain, we at Humor That Works decided to do 30 Days of Humor as a way to celebrate National Humor Month: 30 straight days of sharing a bit of levity to (hopefully) bring a smile to people's faces despite everything going on. Not only were we able to achieve that goal (we got a ton of feedback from people about how helpful the days were), we also learned a lot about what it means to present virtually, something that helped ensure the business survived as the pandemic continued.
Runner-Up: Learning Prezi
Best Personal Decision: Getting Married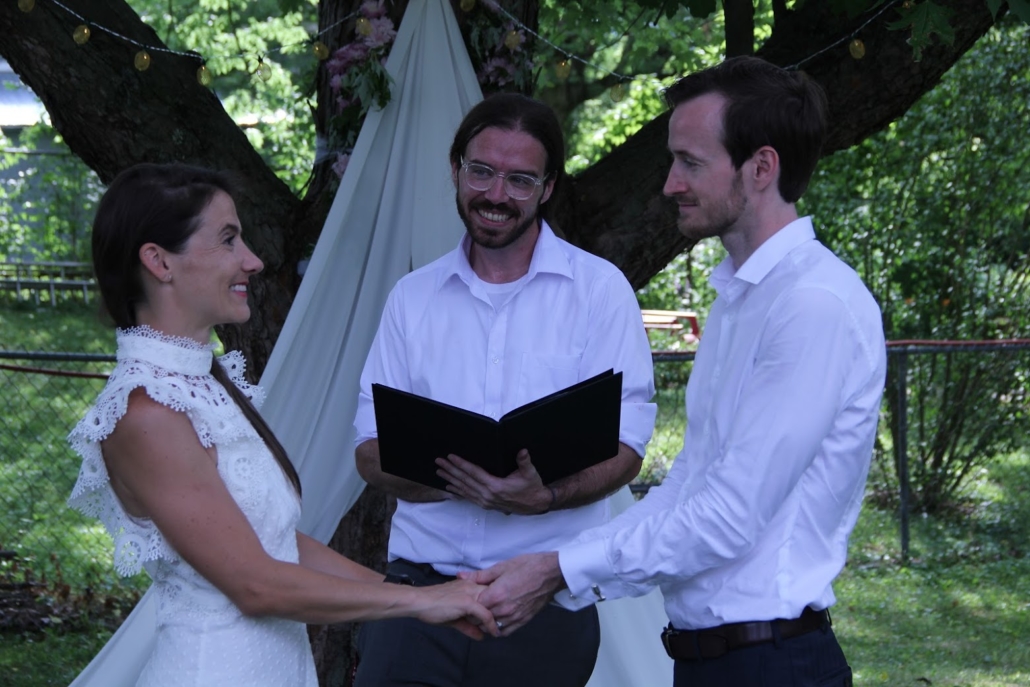 Picking my "Best Personal Decision" for this year was a tough call because I was fortunate to have three big ones to choose from: getting engaged, getting married, or moving to Panama. Getting Engaged in Australia was absolutely a monumental moment for me (and Sabrina), however we had sorta already decided that we would get engaged in 2019, the question was just when and how (and how nervous would I be asking despite knowing that she would say yes). Moving to Panama also had a dramatic impact on our lives: my first time living outside of the US, being in a place where English isn't the first language, and learning that if you tell someone you're in "Panama City," they assume Florida, but if you just say "Panama" they understand you're talking about the country. Despite those two big moments, the best personal decision was the actual marriage for Sabrina and I. While it wasn't exactly the wedding we initially dreamed up, we felt very fortunate to have friends and family join us via Zoom. 2020 was a tough year, but going through it all with Sabrina made it so much easier.
Runner-Up: Getting Engaged, Moving to Panama
Favorite Speaking Engagement: IGNITE Leadership Conference
Despite the pandemic, I was fortunate enough to still do over 100 (102 to be exact) speaking engagements in 2020 (with all but the first 17 of them being virtual). As a result, there were a lot of great moments to choose from, such as the Vinh Giang Stage Workshop I presented at in early March (my last in-person event), the Microsoft event I did on March 18th (my first virtual keynote that proved to myself, and the client, that it could still be a great experience), or the CIO Tomorrow event where I was the virtual emcee (and which brought together my experience as a computer engineer, IT worker, improviser, and humorist all into one event). But my favorite speaking engagement was delivering a keynote at the IGNITE Leadership Conference in Tupelo, MS. First, Tupelo is fun to say. Second, I shared the stage with some other fantastic speakers including Gretchen Rubin. Third, this seemed to confirm the trajectory my speaking career was headed (similar to the Fifteen Seconds Festival in 2019). Fourth, and maybe most important, I got the best speaker gift I've ever been given: a pair of custom made jeans from Blue Delta Jeans.
Runner-Up: Vinh Giang Stage Workshop
Favorite Travel: Ohio in July
Before the pandemic hit, I managed to travel to Vermont and New Hampshire for skiing, Mississippi, Florida, Austria, Texas, and Nevada for speaking events, and Australia for a couple's vacation (and to get engaged). I also did an event in Colonia, NJ, but that doesn't seem particularly noteworthy (although it is the birthplace of Kelsey Grammer, so cheers to that). We even had a few other trips post-lockdown, including a move to Panama and a Christmas trip to Germany. But none of those trips compared to our pandemic visit to Cincinnati. After 3 locked down in NYC, during which the city became the epicenter of the pandemic globally, Sabrina and I realized we needed to get out of our 400 square foot apartment into more space. So we rented an AirBNB in Ohio for six weeks, and little did we know just how much our life would change in that time. First, we regained some sanity as we had more space, we were able to easily walk outside into nature, and we had limited social interaction with my family. Second, that's where we learned that Sabrina had gotten a promotion and new assignment that would take us to Panama starting in October. And finally, that's where we decided that might we might as well get married before we moved to a new country. Throw in an in-state honeymoon to Hocking Hills State Park and tons of Graeter's Ice Cream, and it was for sure my favorite travel of the year.
Runner-Up: Sydney, Australia
Favorite Activity: Skiing in Vermont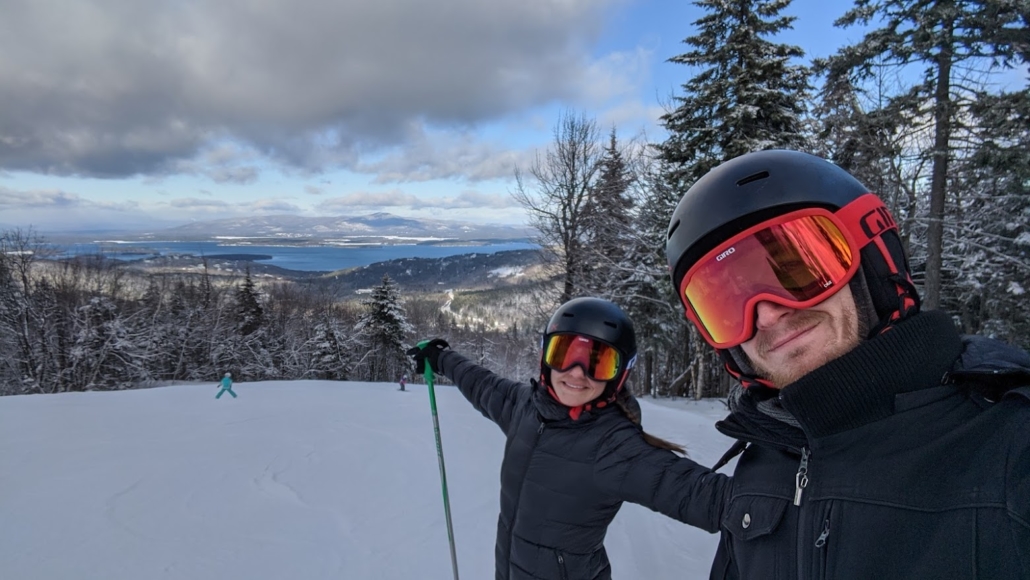 Growing up in Ohio, there weren't very many opportunities to strap wood to your feet and fly down a mountain. So when Sabrina suggested we go skiing in early January, I was a bit skeptical. But with some strategic planning (that included starting first with cross country skiing) and some cool new goggles, I was ready to hit the slopes for the first time. Side note: the phrase is "hit the slopes" because that's what you do a lot as a beginner: hit the side of the mountain. All that said, I had a fantastic time and can't wait to go again (which may be a tad harder now that we're in Panama).
Runner-Up: Surfing in Panama
Favorite Food Experience: Graeters Ice Cream Cake at our Wedding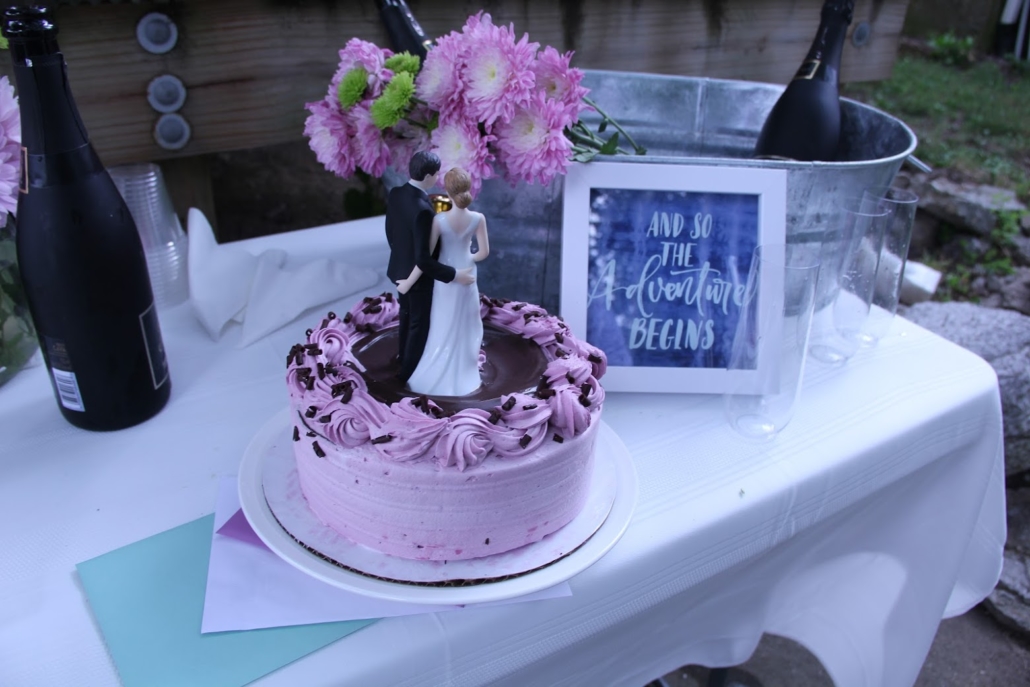 Aside from a few early trips before the pandemic began, new food experiences in 2020 were pretty limited. I mean we did try some new dishes at home. And I did get introduced to the delicious Argentinian treat of alfajores once we got to Panama, but it wasn't like Eleven Madison Park of years' past. That doesn't mean we didn't have any memorable meals however. Our first meal eating on the floor of our Panamanian apartment comes to mind as does the spaghetti eis I had in Germany, but my favorite memory is from our wedding day. One of the advantages of having a last-minute, virtual wedding is that you don't have time to overthink the food. So rather than try to find a wedding caterer in the middle of a pandemic, we decided to go with local "delicacies" in Cincinnati, which included Skyline Chili, LaRosa's Pizza, and of course Graeter's Ice Cream. The best part about getting ice cream cake for your wedding cake is that now we have a perfect excuse to get it every time we go back to Ohio: it's reliving a beautiful moment from our lives in the most delicious way possible.
Runner-Up: The Bower Restaurant (Manly Australia)
Favorite Movie (I Saw): Soul
In a year that was somber and depressing, it's no surprise that I turned to media that was inspiring and uplifting. Pixar is always good for both of those, and their latest release Soul was a great end-of-year pick-me-up. As an added bonus, if you buy a copy of the movie on DVD, then exchange it for something like candy, you can say, "I traded my Soul for a Snickers bar."
Runner-Up: Enola Holmes
Favorite TV Show (I Watched): The Good Place
Building on that idea of needing some more positivity in the world, starting and finishing the entire series of The Good Place was just the boost I needed at times throughout the year. The show combines levity, positivity, and a good dose of philosophy together in a way that makes you laugh, smile, and think.
Runner-Up: Queen's Gambit
Favorite Stand-Up Special (I Enjoyed): Dave Chappelle, 8:46
Sadly the pandemic wasn't the only tragedy of 2020 and one of the biggest non-COVID related stories centered around social equality and BLM. In a time when it seemed like no new comedy shows were happening, out of nowhere Chappelle drops 8:46 with his perspective on George Floyd's death and racial injustice as a whole. The focus was less on being funny and more on providing perspective from a black man who lives in a predominately white area, well worth the watch.
Runner-Up: Patton Oswalt I love Everything
Favorite Book (I Read): Expecting Better
As soon as Sabrina and I found out that we were pregnant, I felt both excited and slightly terrified. I had no idea what to expect during pregnancy (do women really get intense cravings for pickles and ice cream?) or in fatherhood (how hard is it to change a diaper?). Luckily a few friends recommended books that were right up my alley, none better than Expecting Better by Emily Oster. It's an economist's approach to pregnancy, separating fact from "someone made a guess about something years ago and we all still believe it for some reason."
Runner-Up: What's Your And
Favorite Tweet: Over 7 Billion Served
I've got a whole host of my best tweets of 2020, but this one tops them all:
I went to a self-esteem restaurant and asked, "Whats the special?" The server replied, "You are."

— drewtarvin (@drewtarvin) December 6, 2020