Seven years ago, I woke up, sent some emails, and went bowling for a friend's birthday. And I did it all as a full-time entrepreneur. As of July 1, 2012 I was no longer a Procter & Gamble employee, I had officially started working on Humor That Works full-time. And 2,556 days later, I'm still at it.
Over the past seven years, I have: delivered 536 programs, performed 574 comedy shows, published three books, delivered two TEDx talks, spoke in front of 40,000+ people, launched a coaching program, online course, and awards program, visited all 50 states, 27 countries and 6 continents, and, most importantly, have built a sustainable business spreading the word about the power of humor.
But not everything I've done has gone according to plan. Below is a look at some of those "accomplishments" in a little more detail, along with the takeaways I've gained from each.
I wanted to share this recap not to brag about what I've done (you can see many aren't brag-worthy), but to share the ups and downs of being an entrepreneur, content creator, and idea haver. Not everything you do is going to work, not every project will be profitable, and not every video will be impactful. But if you never put anything out there, you'll never create the thing that can change the world (or at least one person's day, year, or life).
21 Lessons from 7 Years as an Entrepreneur
JULY 24, 2012: I did my first paid gig for Humor That Works after making it my full-time job.
The event was a 3-hour workshop for Santander in Dallas, TX that paid me $1,000 plus travel. Going into the event, the organizer acted liked there would be the opportunity to do a lot of different trainings for the group. After the event, I never heard from her again. That may have been because I didn't deliver on what they were expecting, it was just hopeful optimism on both of our parts, or it was a way to get me to lower my price (like getting paid in "exposure").
Takeaway #1: There's never a guarantee for additional work unless it's in the contract.
NOVEMBER 13, 2012: I uploaded a video called Zombie Tag to YouTube.
The video was a simple demonstration of one of my favorite applied improv exercises. I had little expectation of how many people would see it, I just wanted to share a fun activity. It slowly became a popular team-building video, now with more than 500,000 views. I foolishly used the song O Fortuna to make the video seem epic which means any ad revenue from the video goes to the music owner, not me.
Takeaway #2: You never know what's going to resonate with people. As a result, create as though the entire world will see it, but only do the things you'd do even if no one saw it.
NOVEMBER 14, 2012: My first "real" book launched.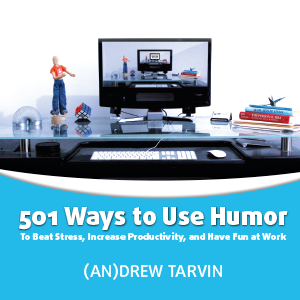 I say "real" because I had previously published a collection of quotations, but they were more curation than creation. I self-published 501 Ways to Use Humor, Beat Stress, and Increase Productivity in both print and on Kindle with the goal of providing a resource for people who wanted to use humor but didn't know how to get started. The book has so far sold 6,123 copies, netting a 3.8 rating on Amazon off of 18 reviews.
Takeaway #3: You can't have a third book if you never created a first one. Even if it doesn't go gang-busters, the first attempt helps you learn for the next several.
MARCH 14, 2013: I officially launched my humor coaching program.
The goal was to provide one-on-one coaching for people who were looking to make a change in their life. After the first six months I all but abandoned the idea after discovering I didn't really love coaching. I had a grand total of 12 clients, three of which were paid.
Takeaway #4: Just because a successful person does something a certain way, it doesn't mean you have to. Find the things you like to do and focus on those, rather than doing something because you think you're "supposed" to.
APRIL 3, 2013: I announced the first ever Corporate Humor Awards.
The awards were created to celebrate individuals and organizations that use humor in the workplace. They recognized five individuals and five companies that effectively used humor in creating a better work environment for the humans that worked there. I repeated the awards in 2014, completely ignored them for three years, and then brought them back in 2018 and (soon) 2019. Yes, I wish I had continued the Corporate Humor Awards every year, but I don't want the inconsistency to stop me from bringing back the awards whenever I have capacity for them.
Takeaway #5: More important than being consistent is being persistent.
FEBRUARY 4, 2014: I had an enlightening lunch with a fellow engineer.
The lunch was with two PhD students at Carnegie Melon University. I had reached out to them because they were also engineers  who were interested in improv. Towards the end of the lunch, one of the guys asked me who managed my website. I proudly claimed I did and asked why. His response was, "When I talk with you now, I get that you're an engineer and that you focus on humor because it works, and it sounds fascinating. But when I read the site, it seems fluffy and touchy-feely, and doesn't seem like something I'd be interested in." I was appreciative of the feedback and it made me wonder how many other people never reached out or considered booking me because they were turned off by the language on the site.
Takeaway #6: You hardly hear the "nos." No feedback is, in fact, feedback. If something you try isn't getting a response, it means something needs to change.
FEBRUARY 8, 2014: I delivered my very first TEDx talk at TEDxOSU.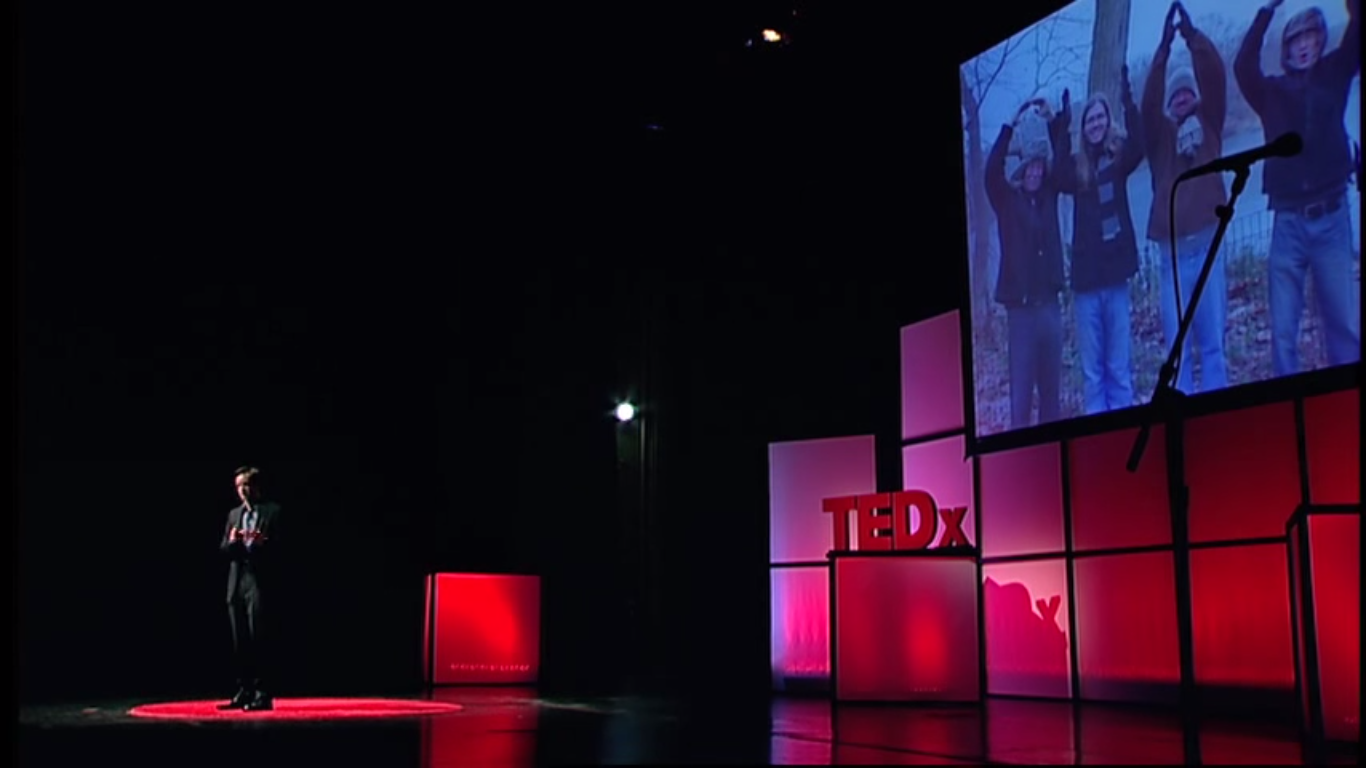 Though the talk never went "viral," it has racked up more 200,000 views and has led to 13 speaking engagements and over $30,000 in revenue. Looking back at the talk now, I still believe in the content but cringe at the delivery knowing that I'm so much stronger as a speaker now. Part of me wishes I had delivered a stronger talk, but that was a great delivery for my skill level at the time. Plus, I'd much rather look back five years and think I'm a better speaker now than look back five years and realize I haven't grown at all.
Takeaway #7: If you don't look back at the past five years and at least cringe a little bit, you probably aren't taking big enough chances or continually improving.
SEPTEMBER 23, 2014: I had my first five-figure event day.
For the first time in company (and my personal) history, I earned over $10,000 in a day. To do so, I delivered a keynote, breakout, and two workshops over the course of one day for a group of project managers at Nationwide in Columbus, OH. It would be two years before my next five-figure day.
Takeaway #8: One success doesn't guarantee another success, just as one failure doesn't guarantee another failure. But a peak at one time can give you a glimpse of what the future could hold.
JANUARY 21, 2015: I launched an online course on humor at work.
After three months of planning, shooting, and editing, my first (and currently only) online course went live on Udemy. I hoped that it might lead to a nice stream of passive income and generate leads for in-person workshops… thus far it has netted $1,682 from 1,198 students and zero leads. Despite my insistence that it is not a course on being funnier, it sits at a 4.15 rating (on 45 reviews) with more than a few negative comments about how it doesn't make people funnier. More than anything, it did force me to put together a cohesive workshop-style program that I used for in-person deliveries.
Takeaway #9: Passive income is very misunderstood; very often it's delayed income from work you put in a long time ago, and it's not guaranteed.
AUGUST 7, 2015:Â My second app, the Perfect Day (now called 5 Daily Habits), launched.
While I hoped others might benefit from the app, the primary purpose was to provide an easy way for me to follow my five daily habits program. My first app, 501 Ways to Use Humor, came out in November 2013 as an add-on to my first book and has made -$723 dollars off of roughly 200 downloads (revenue of $902 minus $1,625 cost to build). 5 Daily Habits has netted -$3,960 (the app is free but app development is not) with over 6,000 downloads, but it has more than paid for itself in keeping me accountable to my short- and long-term goals… that is until I stopped tracking my habits sometime in 2018.
Takeaway #10: Return-on-investment doesn't always come in the form of money back, sometimes it's a new skill, accountability, or additional credibility. Also apps are hard.
JULY 17, 2015:Â I did a talk for sales new hires at P&G.
Since leaving P&G, I've returned to the organization for a number of the events, including one for new employees in sales. In the audience for the talk was Adam, a new hire and the son of the president of the National Speakers Bureau, Brian. Adam enjoyed my presentation so much, he called his dad about it and two days later I talked with Brian about being part of his speaker line-up. That meeting resulted in them listing me as one of their speakers and I've done five talks with them for more than $25,000. I'm also friends with Adam and Brian.
Takeaway #11: You never know who is sitting in your audience and what opportunities may come when you deliver a good product or program.
FEBRUARY 11, 2016:Â I completed my 1,000th performance in my 50th state on my 32nd birthday.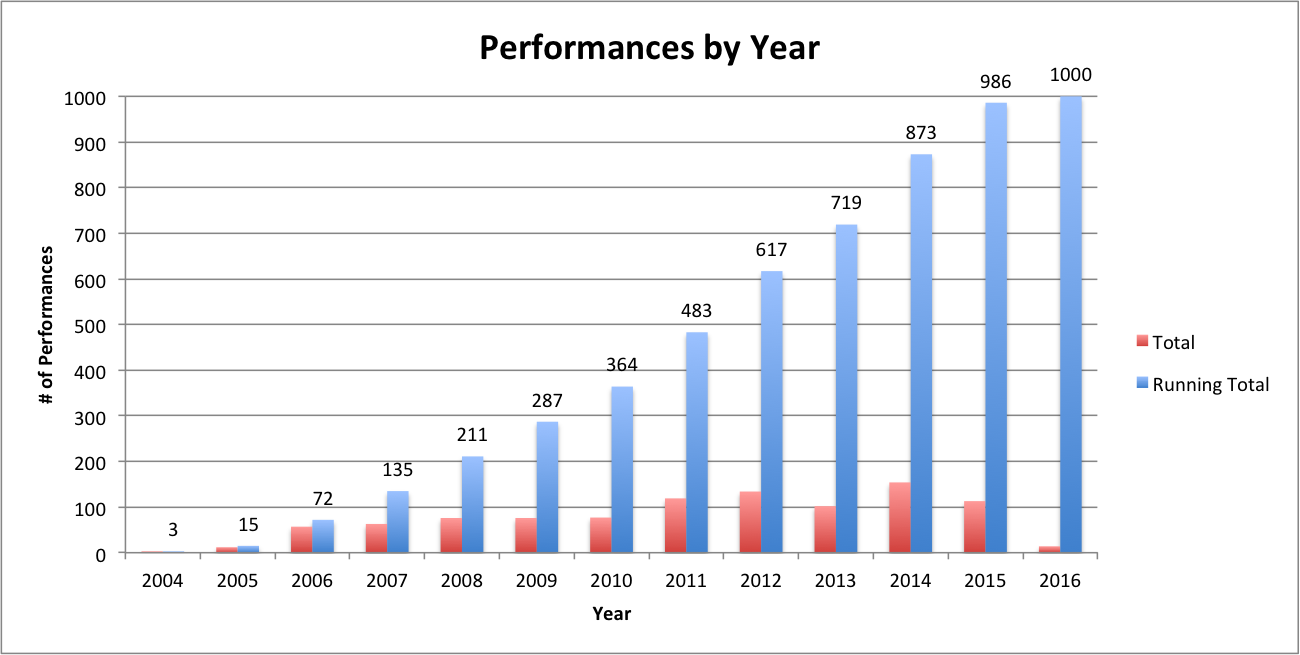 The storytelling show in Hawaii was one of the defining moments of my career up to that point as it was the culmination and celebration of months of travels, years of performances, and decades of existence. I never would have guessed that this introverted teacher's pet would go on to perform in more than 1,000 shows, let alone do it in all 50 states.
Takeaway #12: What starts as a hobby today could become your passion/career/purpose  tomorrow (where "tomorrow" is a metaphor for the future, 24 hours from hobby to career seems unlikely).
APRIL 22, 2017: I gave my second TEDx talk, this time on the skill of humor at TEDxTAMU.
I dedicated nearly four months to prepping for the talk, doing stand-up and speaking engagements to iterate on the message. I felt great about the performance and the end result. On January 2, 2018, six months after the talk came out, it only had 3,000 views. It hit one million views on July 2, 2018, currently has over four million views, and has been an idea worth spreading.
Takeaway #13: Success is rarely instant. Yes, some people "go viral" "overnight," but often it's the result of years of hard work before it happens. And yes, luck plays a huge role in success, but the harder you work, the luckier you seem to get.
SEPTEMBER 26, 2017: My second book, The United States of Laughter, came out.
When I started my  nomadic journey on March 1, 2015, I had no idea what it would lead to or why I was even doing it. By the end of trip, I had traveled 159,023 miles, gone to all 50 states, and visited 14 countries over the course of 18 months. I also had such incredible experiences that I felt compelled to write about them. Like 501 Ways, The United States of Laughter was self-published but in a much more professional manner. It's currently sold 2,220 copies and has a 4.7 rating on 54 reviews. It has led to 22 media appearances and, perhaps most importantly, gave me the opportunity to do a literal book launch.
Takeaway #14: There's a cliche that asks, "If anyone wrote a book about your life, would anyone care to read it?" Why not do something worth writing a book about, and then write the book.
SEPTEMBER 29, 2017: I uploaded The Cliched Meaning of Life video.
The video is a stand-up bit that involves 100 cliches in 4 minutes exploring the meaning of life. I had spent years perfecting the performance but kept putting off uploading the video as I thought it had the chance to go viral (and maybe even get me on Ellen), and I was scared to find out if it would. The video currently sits at ~7,000 views and I have not appeared on Ellen.
Takeaway #15: Sometimes we hold off on sharing something with the world because the dream that it might work feels better than the confirmation that it won't. But you can't watch a video that's never been uploaded, and holding on to a fantasy prevents you from building a new reality.
FEBRUARY 18, 2018: I delivered a talk at NSA Winter Conference on the Future of Content Creation.
The talk explores what the world of speaking may look like in the future and was well received. In addition to a standing ovation and a few speakers jokingly "bowing" to me, people afterwards told me they could see that talk being given at nearly every tech conference out there… I've only delivered the talk one more time, at another speaker event. However, it has prompted me to work on creating the creative assistant I imagine we'll have in the future, which might be a product or service in the future.
Takeaway #16: Don't let compliments or insults sway you too far one way or another. They can be helpful pieces of feedback, but they don't guarantee success or failure. Only your attitude and commitment do.
JUNE 13, 2018: I streamlined my websites into two brands: Drew Tarvin and Humor That Works.
Drew Tarvin became a combination of Drew Tarvin (comedy / blogging), Andrew Tarvin (speaking, authoring), Slash Entrepreneur (entrepreneurship), and Create / Consume (time tracking). Humor That Works (humor at work training) absorbed Humor Engineer (humor work), Humor's Office (funny office humor), Humor Awards (corporate humor awards), and Understanding Comedy (how to be funny). For those keeping score, that's two successful sites out of nine that I started. Though none of the other sites really took off, I wouldn't call them failures either because they helped me explored ideas and many of the posts still exists under the new brands.
Takeaway #17: You will fail more often than you succeed, but often you will only succeed because you've failed.
OCTOBER 25, 2018: I stepped down as co-owner of CSz New York.
CSz New York was the first group I did improv with when I moved to New York City. 10 years and over 350 shows later, I was co-owner of the organization and working to build its presence in the city. Eventually, Humor That Works grew big enough that I wasn't able to commit time to running the organization or performing as frequently as I once did. The group remains one of the most supportive, hilarious, and joyous groups I've ever been a part of was one of the biggest things I had "give up" in order to build the business I wanted to.
Takeaway #18: Owning a business is not without sacrifice. Sometimes you have to stop doing the things you really like to do for the things you love to do.
FEBRUARY 1, 2019: The first Humor That Works workshop not delivered by me took place.
The facilitator-led workshop was a version of a communications workshop I had delivered 80 times for the Flatiron School over six years. But workshop #81 was delivered by Vandad, someone who I trained up to do the program. Since then, 22 Humor That Works programs, including one keynote, have been presented by people not named Drew Tarvin, allowing the message of humor to be spread even when I'm not available or already booked.
Takeaway #19: There's only so much you can do alone. If you want to multiply your efforts, you'll have to engage or partner with other people. As the adage goes, "If you want to go fast, go alone. If you want to go far, go together."
MARCH 8, 2019: I gave a presentation on my fifth continent in two months (and my sixth continent total).
After a few years of various conversations with IBM, I got booked with them to do three week-long events in three different countries (US, Spain, and Singapore) for the largest contract amount I had ever recorded (more than twice the amount of money I made my entire first year as a full-time speaker). Rather than just do those events and be done with it, I decided to seek out additional speaking opportunities in neighboring countries, adding a talk in Morocco and a workshop in Australia, giving me five continents in 47 days.
Takeaway #20: When you achieve success, find ways you can build on that momentum rather than rest on your laurels.
APRIL 1, 2019: My third book, Humor That Works, was published by hybrid-publisher Page Two.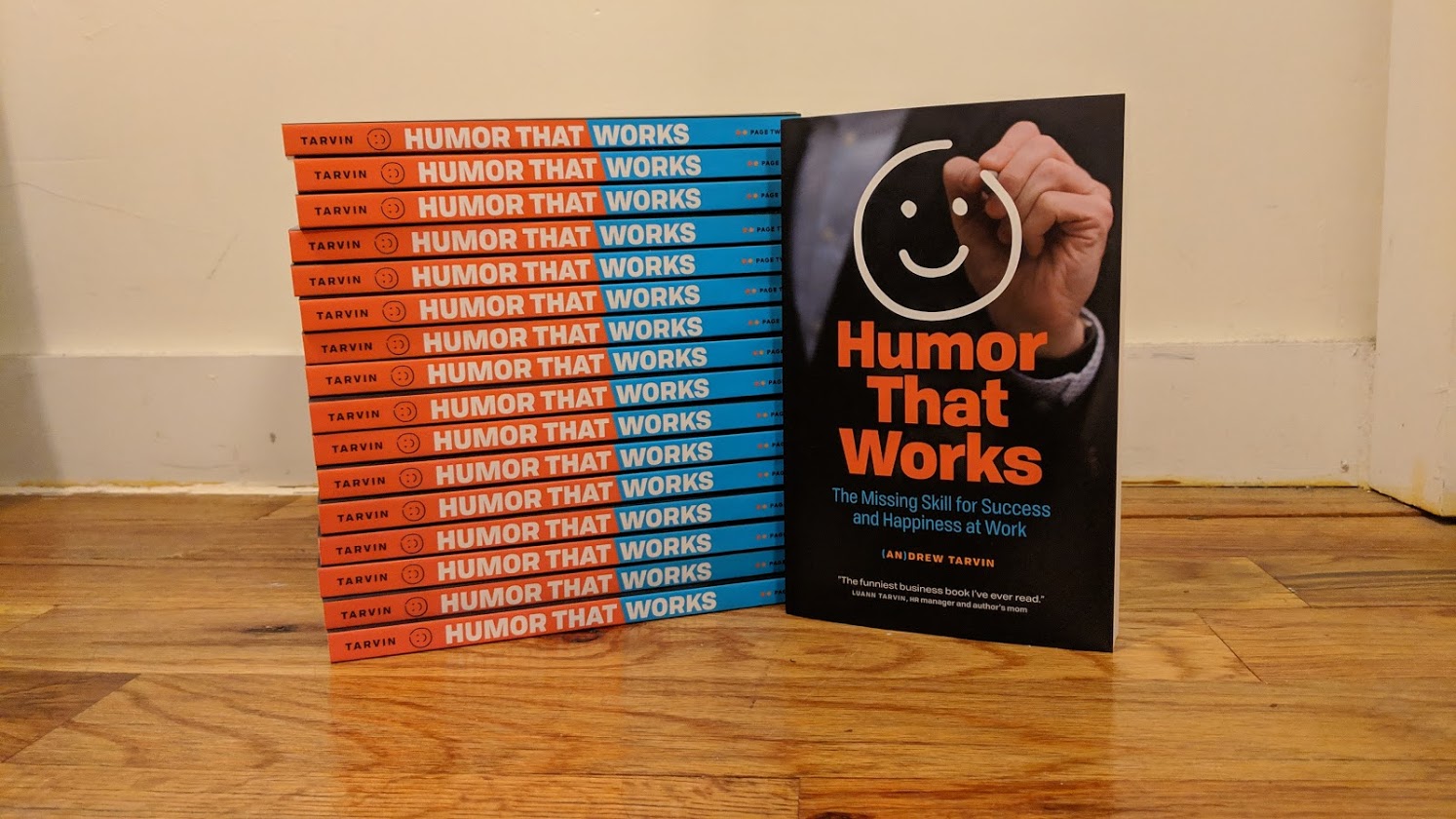 The book was a culmination of everything I learned over 10 years regarding the what, why, and how of humor in the workplace. The book launched as a #1 new release and was featured in FastCompany, Thrive Global, and Monster.com. It was named a top gift for Father's Day by Forbes and one of the best 49 business books for Empowered Professionals. In the first 3 months, it sold 941 copies, garnered a 4.8 rating on 29 reviews, and led to literal book launch version 2. To get all of that, all it took was over $30,000 in publishing and PR services… but it has led to increased credibility, workshop add-ons, and helped confirm a few booked engagements.
Takeaway #21: To get to the next level, you have to be willing to invest in yourself and your business. The payoff may not always be immediate, but it will come eventually (hopefully).
SUMMARY
That brings us to today, July 1, 2019, when I wrote this post capturing some of my successes and failures over seven years of working for myself. Reviewing the past septet of years has served as a helpful reminder of the importance of continuing to create. Honestly, I hadn't remembered all the things that I tried that didn't go according to plan. By always having things I was working on, I could focus on what worked instead of dwelling on what didn't.
A sincere thank you to all who have supported me these past seven years, and for the haters who have helped me grow and get stronger. Here's to another seven (and hopefully more) years full of successes, failures, and everything in between.