I feel fairly confident saying that 2019 was the best year of my adult life. Between some incredible travel and amazing accomplishments, to some great moments with friends and a fantastic relationship, the past 365 days have been a joy. The banner color for the year was green, because it was also the first time that Humor That Works surpassed $100,000 in revenue. Here are some of the highlights (you can check out past yearly reviews here to see how it compares).
Best Achievement: Humor That Works Book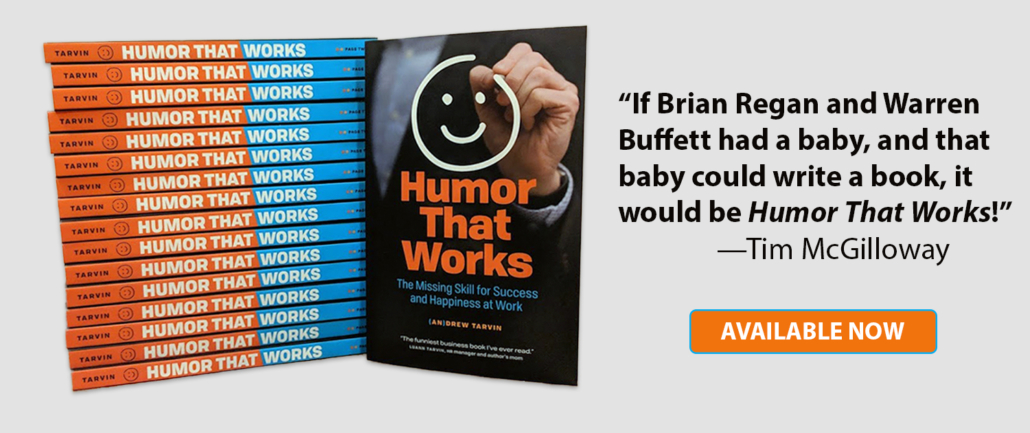 2019 was a busy year for me and Humor That Works. It was my best year in business (so far) where I delivered 86 events across 12 countries and 5 continents. I also moved in with my girlfriend and celebrated 7 years of being a full-time entrepreneur. However, my best accomplishment of the year was finally publishing the Humor That Works Book. This book summarizes everything I've learned over the past 10 years about using humor in the workplace, defining the what, why, and how of humor. So, if you've ever wondered, "what exactly is it that you do?"–or if you want to learn 10 actionable strategies anyone can use to become more productive, less stressed, and happier–check it out.
Runner-Up: Record Year for HTW
Best Personal Development: Processing the Loss of My Dad
My dad passed away six years ago and my grieving has gone through stages. Admittedly, I didn't really fully process his passing until two years ago when I wrote the United States of Laughter. Being a nomad and realizing what my father missed was a key moment for me. But this year, with even more time having passed and being in a relationship with someone I really wish he had had a chance to meet, made me realize there are stages and waves of dealing with loss that will probably never end. Knowing that part of me will always miss him and wish he was here is comforting in a way, and I've finally started to understand that.
Runner-Up: Reducing Some Rigor
Best Business Decision: Hiring a PR Firm
A lot of things went well for Humor That Works in 2019, including the launch of the book on April 1st (I pity the April Fools who didn't purchase a copy). In addition to doing a "literal book launch" by strapping the book to a model rocket, I also hired a PR firm to help spread the word even more. While it was quite an investment, I was happy with the results. I had more than 30 articles placed in various publications and I did a number of TV interviews, including my first national appearance on a TV show where I did two segments for The List. Not bad for someone who was once told they have the perfect voice for print ads.
Runner-Up: Attending the Speak & Spill event.
Best Personal Decision: Moving in with Sabrina
Prior to 2019, I had never lived with someone I was dating long-term. I had short stints here and there, but never the full "move my stuff in and we share rent" level of moving in. That all changed in May, when Sabrina and I moved in together. My lease was ending, hers was starting anew, and our relationship was going well. It was certainly a brand new experience filled with ups and sometimes not-so-ups… We did resolve the toilet seat up or down debate by deciding the seat AND lid should always be down. And if she was one of those "under" toilet paper people, I'm not sure the relationship would have worked anyway. I'm proud to say that after living together, we love each other even more, which suggests that project partner from last year is working.
Runner-Up: Doing a Joint Trip Through Europe
Favorite Speaking Engagement: Fifteen Seconds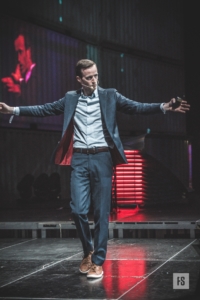 I had the opportunity to do some fantastic events with some incredible organizations in 2019. IBM, OSU, Citi Bank, Microsoft, Johns Hopkins, the UN, and many others all brought me in to talk about the value of humor. But the one event that really stands out was delivering the closing keynote at the Fifteen Seconds festival in Graz, Austria. It was a diverse crowd of over 1200 people and it seemed like every one of them enjoyed my nerdy sense of humor. As an added bonus, it came at the end of the Sabrina + Drew European tour, so she also got to see me at my best. It was the first time I truly felt like a rockstar while speaking (although that might have been because they also had DJ on stage for intro/outro music). It also gave me my favorite speaker action shots as seen above. The conference kicked off with David Allen talking about Getting Things Done, it seems appropriate that it ended with Getting Things Fun.
Runner-Up: IBM Cloud
Favorite Travel: Sabrina + Drew European Tour
I'm learning a lot about the differences between Europeans and Americans from my relationship with Sabrina. One of those differences is in how we travel. According to Sabrina, Europeans like to take their time in one place to truly get to know it. I suppose you can do that when you get 51 weeks of holiday. Americans, she says, like to go from one city or country to the next, only seeing the touristy things and not really getting to know a place. It makes sense when you only have two weeks of vacation for an entire year. And considering I spent 18 months as a nomad and averaged only 3 days in each location, she's not wrong. She got to experience my quick-style of travel during a European speaking and comedy tour I set up. Over the course of fourteen days, I did 5 performances in 5 countries (Germany, Luxembourg, Hungary, Slovakia, and Austria) and she joined me for the journey. We would go to a city, find a local place for food, do the speaking event the next day, do some adventuring, and then head to the next place a day later. For Sabrina, it was a learning experience and she says she still prefers spending more time in each place. For me, it was a huge help being with someone who spoke some of the languages and is much better at talking to strangers.
Runner-Up: Casablanca with David
Favorite Food Experience: Cake & Champagne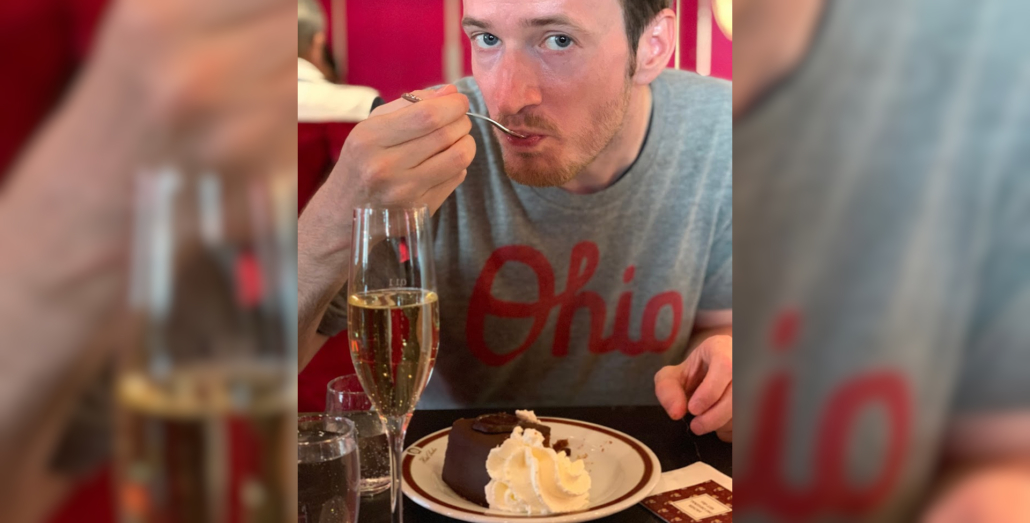 I was fortunate to try some delicious food throughout the year (including a new local NYC favorite at Maison Pickle which has some incredible bread). But my favorite food experience was with Sabrina during our European tour where she basically conned me into having cake and champagne every single day of our trip (it didn't require a lot of twisting). It was an important lesson in realizing that if you want to do something, why not make up an elaborate story about how it's a cultural tradition that would be rude not to partake in? Admittedly we loved the "tradition" so much that we now use cake and champagne as a way to celebrate key moments in our lives.
Runner-Up: Singapore Hawker Market with IBM Crew
Favorite Movie (I Saw): Avengers: End Game
It almost didn't matter what other movies came out this year, Avengers: End Game was always going to my favorite. I mean it's the culmination of a 22-film experience. It's the reckoning of Thanos. It's the end game! (Well, also not the end because it also sets the stage for more MCU to come, which I'm all for.) Sure, some people might say "aren't you tired of all of these super hero movies" or "don't they all follow mostly the same plot anyways?" First, who doesn't love good triumphing over evil, and second, there's basically only six types of stories anyway, so what's wrong with wanting to have your protagonists wielding super powers and witty retorts? I say nothing.
Runner-Up: Parasite
Favorite TV Show (I Watched): Chernobyl
I'll admit that I didn't know very much about the Chernobyl disaster prior to watching the TV mini series. I knew it was a tragedy, contributed towards the move away from nuclear energy, and possibly created three-eyed fish (or did I learn that from The Simpson's?). The mini-series from HBO was incredibly well-done, "exhaustively researched" (according to Wikipedia) and mostly accurate with only some minor creative liberties taken. (Note: Minor Creative Liberties would be a great improv team name.) The series was so well done that I hope the same group of creators do it for other historical events. An event like Pearl Harbor deserves this type of introspective look, not some weird love triangle directed by Michael Bay.
Runner-Up: Daredevil Season 3
Favorite Book (I Read): The Proverb Effect by Ron Ploof
Pithy sayings aren't just fun to say, they also help an idea stay. Or something like that. The Proverb Effect shares the value of creating proverbs in order to help people remember an idea or concept. Given my love for cliches, it was great to learn why such statements are so valuable, and how to create some for my own content. After all, "what gets fun gets done."
Runner-Up: Raise Your Game by Alan Stein
Favorite Tweet: It's Not Laziness, It's Efficiency
What would I do without the ability to express myself through puns on twitter? Luckily that's not a world we have to live in. You can check out my best tweets of 2019 or take a look at my favorite from the year:
I don't procrastinate but I do believe in just-in-time productivity. #MondayMotivation

— drewtarvin (@drewtarvin) January 14, 2019